Panusaya Sithijirawattanakul believes she has a duty to speak out about her country's politics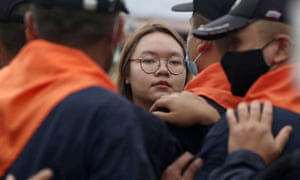 Panusaya Sithijirawattanakul at a rally in Bangkok. Photograph: Athit Perawongmetha/Reuters
When Panusaya Sithijirawattanakul decided to risk going to jail by calling for reforms to Thailand's powerful monarchy, she had no idea how people would respond. In the hours before, she felt like she might faint. After turning to her friends for reassurance, she walked on to the stage of a major protest rally in Bangkok and calmly delivered a speech that would shake the country.
In front of thousands of students, she called for the power and wealth of Thailand's king to be curbed – challenging an institution protected by a strict lèse-majesté law and long considered untouchable. Its budget should be reduced, the king's private funds should be separated from the crown assets and the king should not endorse any further coups, she said, reading from a 10-point list. Criticism of the monarchy should not be forbidden, she added.
"If the people [disagreed], it was over," said the 21-year-old student, looking back on that day in August.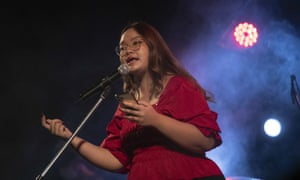 In September, tens of thousands of people gathered for another, student-led demonstration, at which Panusaya not only reiterated demands for curbs to the monarchy's power, but dramatically hand delivered them to the king's privy council.
Another protest is planned for Wednesday, when students intend to assemble at Bangkok's Democracy Monument and march to Government House. Ultra-royalist groups have announced plans to hold counter-protests.