The federal government is prepared to fight Beijing at the World Trade Organisation after the Chinese Ministry of Commerce launched an anti-dumping investigation into Australian wine.
Minister for Agriculture David Littleproud said on ABC Insiders on Sunday morning the government was willing to challenge any allegations local winemakers dumped bottles under two litres into China at reduced prices.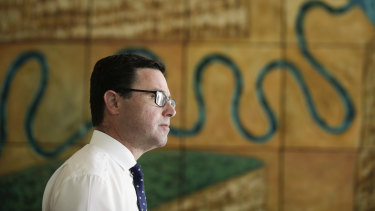 "We'll vigorously defend that and if required, we'll go through the process and go to the WTO. We have form for that," he said.
Australia has previously taken disputes with India and China to the WTO, he said, adding of the 37 OECD countries only New Zealand subsidies farmers less than Australia.
We don't subsidise our farmers, they're on their own two feet," he said.
The potential strike on the $3 billion wine export industry follows an escalating trade war with China and sanctions on barley and beef amid a deteriorating relationship between Australia and its biggest trading partner.
But Mr Littleproud said each of these situations was different, explaining of the four abattoirs that had their licences suspended during the beef dispute, one was majority Chinese-owned.
"Many of the abattoirs previously … failed some of the labelling requirements they're sending across," he said.
"Barley we will continue to vigorously defend that we have not subsidised or dumped barley into China. And the same with wine."
He also encouraged businesses to spread their risk among many countries when exporting their goods. China is the biggest market for Australia's wine exports, taking a 37 per cent share worth $1.2 billion in the last financial year.
Victorian and South Australian winemakers are particularly reliant on the Chinese market with about half of their exports going to Australia's biggest trading partner.
"We would say to our exporters that you should spread your risk, that you shouldn't have market concentration," Mr Littleproud said.
Trade Minister Simon Birmingham last week described the wine investigation as a "very disappointing and perplexing development" and said Australia would fully engage with China's processes to argue the case.
He also warned it was a "threat to all producers who export".
The wine industry suffered its first decline in total exports since 2013-14 in the last financial year, with a 1 per cent drop to $2.84 billion on the back of significant declines in the March and June quarters.
Figures released this month show the average value of wine exported to China increased 22 per cent to $9.07 a litre due to a rise in more expensive exports and a decline in cheaper wine exports.
Jennifer Duke is an economics correspondent for The Sydney Morning Herald and The Age, based at Parliament House in Canberra