Observers are astonished by how young people are challenging traditional hierarchies
Student protesters address a rally in Bangkok. Photograph: Lauren DeCicca/Getty Images
Every morning when the national anthem plays out in Thai schools, students are expected to stand still in deference as the country's flag is raised. But last week some sent a defiant message, raising their hands in a three-fingered salute – a gesture borrowed from The Hunger Games that is used widely by Thailand's growing pro-democracy movement. Others gathered on school grounds to hold up sheets of blank paper.
For more than a month there have been almost daily student-led rallies spreading across the country, including a demonstration in Bangkok last weekend attended by more than 10,000 people. Observers are astonished by how rapidly the protests have spread, by how young people are challenging traditional hierarchies, and by the boldness of their demands, some of which relate to the powerful royal family.
"Everybody in Thai society has been very surprised by what is happening right now," said Kanokrat Lertchoosakul, a lecturer at Chulalongkorn University's faculty of political science: "We have never ever seen a phenomenon like this." As well as university students, children as young as 13 or 14 were organising flash mobs, she said.
The protest movement is not centrally organised. Instead, different groups have used social media to coordinate rallies across the country, driven by anger at a military-backed government they accuse of eroding democracy and holding their country back.
Protesters are calling for the prime minister, Prayuth Chan-ocha, who first came to power during a 2014 coup, to dissolve parliament, for an end to the harassment of activists and for reforms to the constitution, which was written under military rule and has entrenched the army's power.
Some have also called for changes to curb the power of the monarchy, in speeches that until recently would have seemed unthinkable.
Such comments carry huge risks. Though the king has apparently requested no prosecutions for now under the country's strict lese-majeste laws, at least 10 pro-democracy protesters have been arrested on other charges including sedition, which carries a sentence of up to seven years.
The group Thai Lawyers for Human Rights says it has documented 103 cases where students have been harassed or prevented from expressing their political views, including by making the three-fingered salute, wearing white ribbons or holding pieces of blank paper. Last week Unicef released a statement calling for "children and young people's right to freedom of expression" to be upheld.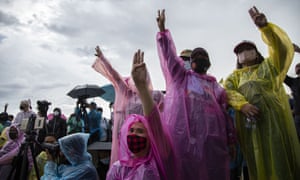 Thailand's education minister, Nataphol Teepsuwan, has said students have the right to express their views.