MANILA – Vice President and Education secretary Sara Duterte will present to the public the challenges and target action plan for the Basic Education Report (BER) on Jan. 30, according to the Department of Education (DepEd).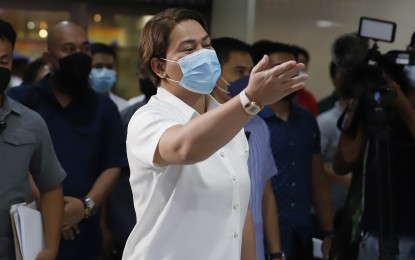 (PNA file photo)
In an interview, DepEd spokesperson Michael Poa stressed the education chief's presentation intends to uphold transparency and inclusivity for stakeholders across all sectors, particularly in the disclosure of educational status in the Philippines.
"Ang daming challenges ng basic education. Iisa-isahin natin. Ilalahad natin kung ano po yung challenges ng basic education. Aside from that, syempre nalatag natin yung challenges, ang department ay maglalatag ng mga plans and initiatives (Basic education has so many challenges, we will discuss them one by one, and we will enumerate them. Aside from that, of course, we will also disclose our plans and initiatives)," he said.
The DepEd also gave possible topics which may be presented in the BER, including challenges on learning loss and curriculum, among others.
"We have problems with school facilities, we have problems with our curriculum which we are currently reviewing… nasasabi na nga yung literacy sa atin (our literacy have been already tackled), we all know about the learning poverty report that the World Bank has issued. These are the things that we are aware of," he said.
Several points concerning child protection and teachers' welfare are also expected to be discussed.
The DepEd earlier announced the BER to be presented on January 30.
Learners' protection
Poa, meanwhile, said 78 complaints have been sent to Learner Rights and Protection Office (LRPO) since its launching in November.
These complaints were sent through "e-mail, Facebook chats, and phone calls."
"So we now have an additional 78, I am now asking for data because we will be monitoring how fast our resolutions are," he said in mixed English and Filipino.
Poa noted that these reports still undergo proper validation.
"Ang karamihan po na narereport sa atin are incidents of (peer-to-peer) bullying (Most of the reported incidents are peer-to-peer bullying)," he said.
In the end, Poa reiterated complainants may relay their concerns with confidentiality through these hotlines.
"Nire-remind natin yung publiko, mayroon tayong ganitong LRPO hotlines, hindi lang sa phone, pati sa email, Facebook and they can contact us para magreport ng ganitong abuses (We are reminding the public that we have these LRPO hotlines, not only in the phone but also in email and Facebook, they contact us to report these abuses)," he added.
Complainants or concerned individuals may send their complaints via the telesafe helpline at (02) 8637-2396, (02) 8632-1372, and 0945-175-9777, or via email at weprotectlearners@deped.gov.ph.