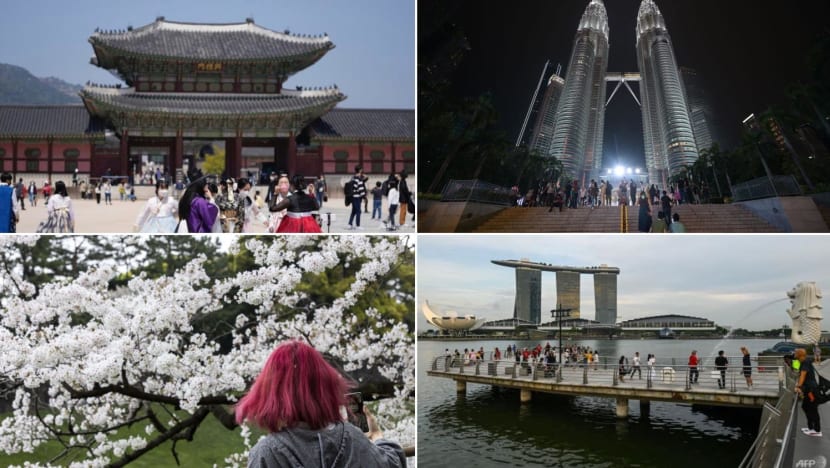 (Clockwise from top left) Visitors at the Gyeongbok Palace, in Seoul, South Korea; Malaysia's landmark Petronas Twin Towers illuminated before their lights are turned off to mark the Earth Hour; people gather along the Marina Bay waterfront in Singapore and a woman makes a video call next to cherry blossoms in full bloom in Tokyo, Japan. (Photos: AP/Lee Jin-man, AFP/Mohd Rasfan, AFP/Roslan Rahman, AFP/Behrouz Mehri)
SINGAPORE—  Destinations around the world have been easing COVID-19 entry restrictions as the pandemic wanes, with Taiwan the latest to announce relaxed rules.
The Taiwan government said on Monday (Sep 5) that it will resume visa-free entry for some countries from Sep 12.
As travel picks up, here's a look at the updated entry rules for some key Asian destinations.
SOUTH KOREA
If you're going to South Korea, you will no longer need to present a negative pre-departure COVID-19 test result.
This came into effect on Sep 3, but travellers still need to take an on-arrival PCR test within 24 hours of their arrival and upload the result on the country's Q-code website.
All travellers, including children below the age of six, are required to register for Q-code before departure.
A QR code will then be issued to the traveller's email. This is valid for one-time entry, according to the Embassy of the Republic of Korea to Singapore.
Travellers eligible for visa-free entry must also register for the Korea Electronic Travel Authorisation, or K-ETA, if they are visiting for fewer than 90 days.
South Korea lifted quarantine requirements for all travellers, regardless of vaccination status, from Jun 8.
JAPAN
Tourists will be able to visit Japan on package tours without a guide from Sep 7. But the country still has strict border restrictions compared to many other major economies.
Pre-departure tests are required for all travellers. On-arrival tests and quarantine may be needed depending on where a visitor is travelling from.
For instance, countries like Singapore, Malaysia, Thailand, the Philippines, the United States, the United Kingdom and France, are on Japan's blue list – meaning on arrival tests and quarantine will not be required. There is also no need to submit a COVID-19 vaccination certificate.
Travellers from countries on the yellow list – for instance, India, Vietnam, Sri Lanka and Portugal – need to quarantine for three days if they do not have a valid vaccination certificate.Japan's visa-exemption measures remain suspended.
HONG KONG
Hong Kong on Aug 12 shortened the hotel quarantine period for all arrivals from seven days to three.
After that, they need to self-monitor for a further four days. During this time, they can head out if they test negative but not to areas that are considered high-risk such as restaurants and bars where mask-off activities are conducted.
Their isolation status will be updated on the LeaveHomeSafe mobile application.
Only fully vaccinated travellers can enter Hong Kong.
A pre-departure PCR test is required for travellers aged three and above, to be done within 48 hours before the scheduled flight time.
They must also have confirmation of room reservation for three nights starting on the day of arrival at Hong Kong in a designated quarantine hotel. This applies to all travellers who have stayed outside China for 14 days prior to arrival in Hong Kong.
SINGAPORE
From Aug 29, non-fully vaccinated short-term visitors aged 13 and above travelling to Singapore no longer need to apply for entry approval.
They are not required to undergo a seven-day stay-home notice upon arrival or take a PCR test at the end of the stay-home notice period, the Health Ministry said, pointing to the improving local and global COVID-19 situation.
However, travellers who are not fully vaccinated must still present a negative pre-departure test within two days before departing for Singapore. They must also buy COVID-19 travel insurance to cover the duration of their stay.
All travellers entering Singapore via air or sea must submit their electronic health declaration before they enter Singapore, using the SG Arrival Card e-service up to three days before arrival.
MALAYSIA
All travellers are allowed to enter Malaysia regardless of their COVID-19 vaccination status and do not require a pre-departure or on-arrival COVID-19 test, from Aug 1.
They will no longer need to fill in the traveller's card in the MySejahtera mobile application.
Health Minister Khairy Jamaluddin said authorities will step up the monitoring of travellers' health symptoms at all international entry points in Malaysia.
All travellers who have just arrived from overseas should self-monitor their health, comply with the standard operating procedures and are advised to go to a health facility if they are unwell, added Mr Khairy.
THAILAND
Travellers are no longer required to apply for Thailand Pass, which was an online platform to submit documents before entry to Thailand.
At the point of entry to Thailand, travellers will only need to show proof of either a certificate of vaccination.
Those who are not fully vaccinated need to show a negative PCR test result or a professionally administered ART result.
If these requirements are met, there is no need to quarantine.
TAIWAN
Taiwan has done away with the requirement for negative pre-departure PCR tests.
However, a PCR test upon arrival is still needed. In June, it cut the number of days spent in isolation for arrivals from seven days to three.
These requirements will remain for the time being, along with the cap on 50,000 arrivals a week, said Command centre chief Victor Wang on Sep 5.
Due to COVID-19, all foreign travellers have to apply for a special permit to enter Taiwan. Visitors must have confirmation of a reservation at a quarantine hotel.