New Zealand Prime Minister Jacinda Ardern would declare a climate change emergency if re-elected on October 17, while opposition leader Judith Collins has promised tax cuts and faster economic growth during a fast-paced and fiery second election debate.
Labour's Ardern, who enjoys a strong lead in the polls ahead of the vote, admitted for the first time that she had smoked cannabis "a long time ago" – but still refused to say which way she would vote in the concurrent referendum on legalising recreational use.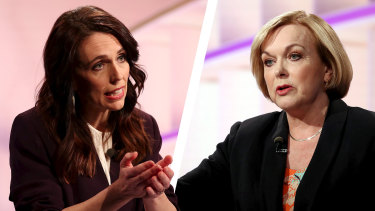 Collins, who opposes legalisation of recreational use (but supports medicinal cannabis) attacked Ardern's equivocation and pointed out the New Zealand PM had made it clear that she would vote yes in the second referendum, which would legalise End of Life legislation.
In a moment of levity, Collins joked that she would be happy to appear on the cover of Vogue magazine, as Ardern once did, and added that any politician who suggested otherwise was a liar.
If only Australia's election debates were as free-flowing and rapid fire as this one (to say nothing of the chaotic mess that was the Donald Trump-Joe Biden debate earlier on Wednesday).
New Zealand Prime Minister Jacinda Ardern remained calm when an earthquake hit during a live interview.
Whether you agree with their positions or not, this was a debate with some policy substance, ably assisted by host Patrick Gower who cut short the waffle and rehearsed lines that made the first debate so forgettable.
Both women supported New Zealand moving from three to four-year terms, both indicated support for free sanitary products for girls in schools and both backed gender neutral toilets.
Both said they opposed re-naming New Zealand (at least for now) Aotearoa – the Maori name for the country, which means land of the long white cloud – a move that has some support.
And both women tip-toed carefully around the issue of President Donald Trump, delivering faint praise for his handling of the coronavirus pandemic, while promising to work with him if he is re-elected.
Collins' praise of Trump's role in the recently announced move by Bahrain and the United Arab Emirates to open diplomatic relations with Israel did not go down well with the studio audience.
But the opposition leader fired back that the deal was preferable to war in the Middle East.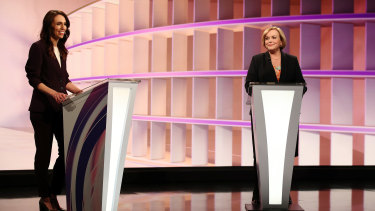 On how to handle the coronavirus, Ardern leaned on her successful record to date while Collins pointed to Taiwan as an example of how to handle the disease without necessarily locking down the country.
Both cautiously endorsed a travel bubble with Australia when it is safe to do so, though Collins struck a more cautious note on re-opening to Victoria.

While the pair agreed on some issues of substance, there were also clashes on house prices, gang crime and infrastructure funding for a controversial so-called "green" school.
With less than three weeks until election day, Ardern is in the box seat to retain power.
The most recent 1 News Colmar Brunton poll of 1005 voters, conducted from September 23-27, projected that Labour – which currently governs in coalition with the Greens and NZ First – is on track to claim an outright majority in the election.
Ardern was preferred PM for 54 per cent of those polled, well ahead of Collins on 23 per cent.
But Collins, a conservative leader and veteran politician who only took over the leadership of the Nationals on July 14, demonstrated that she would leave nothing on the table even as she faced an uphill battle to claim victory.