US companies make roughly 663m syringes a year but the Trump administration has calculated that an extra 850m may be needed.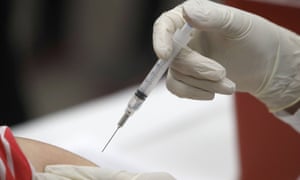 The scale of a potential vaccination campaign in 2021 mean that manufacturing capacity in the US alone may have to double. Photograph: LM Otero/AP
As the race for a vaccine against the coronavirus heats up, the US faces another potential crisis: a shortage of syringes.
The US federal government has already spent hundreds of millions of dollars in hopes of warding off a syringe shortage, if and when a Covid-19 vaccine is approved. It comes as shortages of personal protective equipment continue to hamper the response to the pandemic.
A potential vaccine could receive emergency approval as early as winter 2020. But industry leaders and experts are warning the US has only a short window of time to scale up syringe supplies in order to deal with the vast number of inoculations required to control the pandemic.
The biggest danger for shortage will not come in the first wave of any potential vaccination program, but in the second and third waves in 2021. Then, manufacturers will need to roughly double capacity to meet demand in the US alone.
That situation narrows the window for syringe manufacturing to just a few months, with the early arrival of a vaccine holding the potential to disrupt the supply chain.