Armed clashes erupt at demonstrations demanding end to judge's investigation of huge blast last year
At least six people have died in Beirut's worst street violence in 13 years, as hundreds of armed militia men took to the streets and much of the city was forced into lockdown by heavy fighting.
The bloody violence took on a sectarian tone that invoked images of the Lebanese civil war and alarmed residents who had long feared that the multiple crises ravaging the country could spark a deadly conflagration.
The trigger for the clashes in neighbourhoods near the justice courts, which left dozens more injured, was a protest by members of Amal and Hezbollah, two predominantly Shia political parties, against a judicial probe into the massive blast in the city's port last year.
The violence started with sniper fire from residential buildings targeting the protesters, who returned fire with AK-47 assault rifles and rocket-propelled grenades. Hezbollah claimed that protesters were fired on by gunmen from the rightwing Christian Lebanese Forces.
The deployment of soldiers failed to stem the unrest, which was centred near a civil war-era frontline where militias from Maronite Christian and Shia Muslim blocs have previously clashed.
Many of the residents in the neighbourhood where the shooting started support the blast investigation and view calls to end it as an attempt by one side of the country's fractured politics to impose its dominance. Others view a termination of the investigation as a continuation of the political impunity that has plagued Lebanon and meant that crimes implicating its powerful brokers are almost never solved.
Interior minister Bassam Mawlawi said snipers had opened fire and aimed at people's heads. All the dead were from one side, he said, meaning Shias. Politicians from the Shia blocs called for supporters to refrain from "being drawn further in" to fighting.
However, large numbers of men brandishing weapons took to the streets throughout the day, and gun trucks flying Hezbollah and Amal flags paraded through the Bekaa Valley in a show of strength not seen since Hezbollah overran west Beirut in May 2008 during a short-lived conflict with the Druze leader Walid Jumblatt.
Army trucks rumbled through otherwise empty Beirut streets on Thursday afternoon and ambulance sirens wailed as the injured were carried to nearby hospitals.
Chants of "Shia, Shia, Shia" were at times heard in areas near the frontline. In other areas, groups of Christian men and youths gathered on motorbikes.
As the fighting erupted children were taken from their classrooms in nearby schools and told to crouch in corridors, in scenes reminiscent of the conflict that ripped Lebanon apart between 1975 and 1990.
Nabih Berri and Hassan Nasrallah, the leaders of Amal and Hezbollah respectively, have become increasingly vocal in their opposition to the blast investigation, which is being led by a judge, Tarek Bitar. They accuse him of singling out politicians for questioning, most of them allied with Hezbollah.
The fate of the investigation is widely seen as a make or break event for the crippled state, which has made little progress in establishing the culprits behind one of the biggest industrial accidents in modern history. Earlier on Thursday a court threw out a second attempt to remove Bitar, who had filed arrest and questioning warrants against several former ministers and senior officials.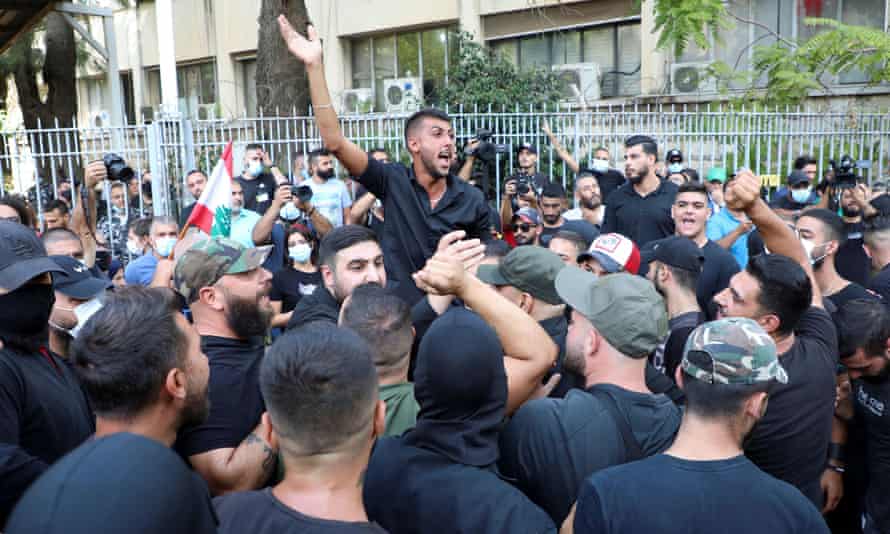 Beirut port had been a microcosm of the politics of Lebanon, which is run by fiefdoms and beset by endemic graft that has led it to bankruptcy. Stakeholders behind the port gates were loyal to political masters who have remained in charge since the end of the civil war.
The catastrophic blast on 4 August 2020 was caused by up to 2,750 tonnes of weapons-grade ammonium nitrate igniting after a fire, which is thought to have been caused by welding work. The fireball destroyed the bulk cargo terminal and much of the adjoining neighbourhoods, killing at least 215 people and sparking protracted criticism towards an unaccountable political class.
However, demands that all aspects of the explosion be investigated seem almost impossible to deliver, with ministers summoned for investigation refusing to turn up, others filing lawsuits against Bitar and yet more directly linked to claims of negligence not being implicated at all. Beyond that, any regional dimensions, which have long been the source of speculation, seem well beyond the judge's capacity to explore.
The violence unfolded while the US under secretary of state for political affairs, Victoria Nuland, was in town to meet Lebanese officials. Nuland later said an impartial judiciary was the guarantor of all rights, in apparent criticism of Hezbollah. "The Lebanese people deserve no less and the victims and the families of those lost in the port blast deserve no less," she said. "Today's unacceptable violence makes clear what the stakes are."
The UN secretary general António Guterres called on all parties to halt violence, and refrain from provocative action and inflammatory rhetoric.
The new government of the Lebanese prime minister, Najib Miqati, has been under increasing pressure from both sides to either abandon the investigation or replace the lead judge. An earlier judge was sacked after he ran afoul of politicians.
"We are so deeply polarised," said Mazen Khoury, a resident of the nearby Badaro neighbourhood. "The Christians are the ones that lost the most out of the port explosion, their homes and their futures. There is a suspicion that other parties caused this and changed the face of the country. What is happening today reflects that."