Foreign secretary Teodoro Locsin Jnr says the Philippines might invoke its defence treaty with the US to deal with presence of Chinese ships in its waters
Duelling statements from the Chinese and American embassies have also fuelled anxiety and speculation in the Philippines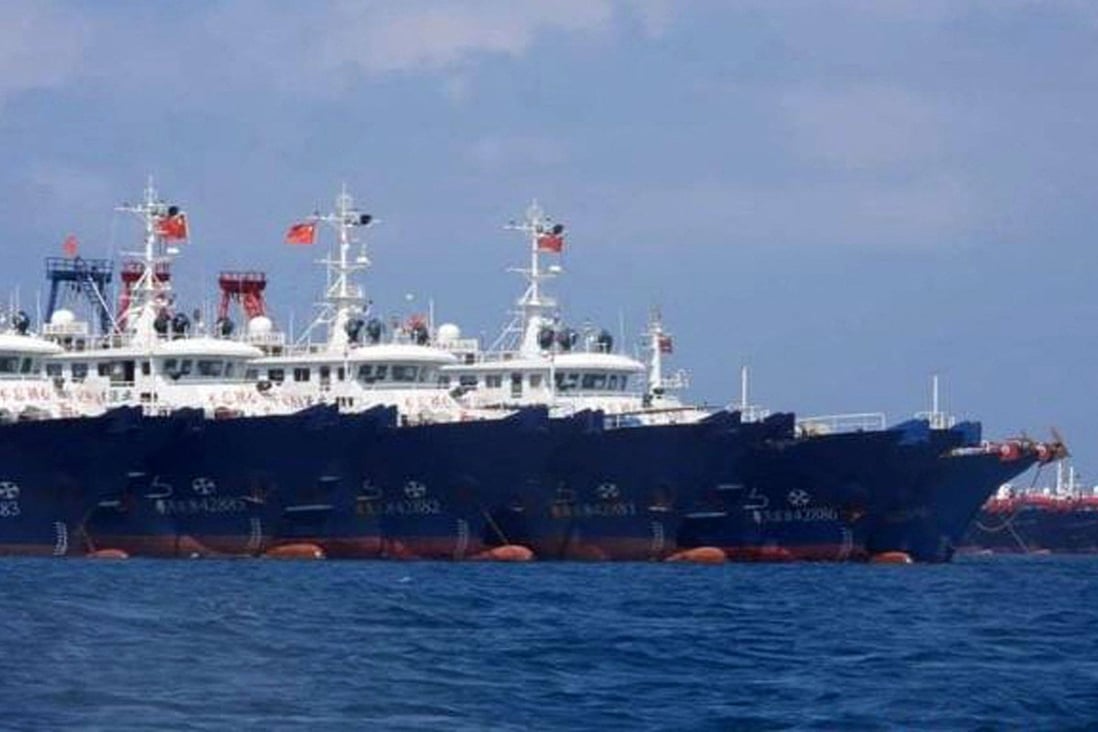 Chinese maritime vessels at the Whitsun Reef Photo: AFP
Beijing could be testing Washington's commitment to its allies with the incursion of ships believed to be manned by 
Chinese maritime militia
personnel into Manila's exclusive economic zone, analysts say.
Philippine
officials on Sunday reported that about 220 Chinese vessels had been anchored at the Whitsun Reef, which Manila calls the Julian Felipe Reef, in the
South China Sea
since March 7.
There are growing concerns over the issue in the Southeast Asian nation, with the American and Chinese consulates both releasing statements in recent days. The Chinese Embassy in Manila said they were fishing vessels taking shelter from rough seas, while the
United States
embassy said the Chinese boats had been mooring in the area for many months in increasing numbers, regardless of the weather.
"China should stop twisting the truth … they're making it appear that we're hallucinating," said Philippine Senator Risa Hontiveros on Wednesday. "It's tiring having to deal with these distortions of truth on behalf of their national interest. China has stolen from us and now she is lying to us."
"It is possible that China is encroaching on our maritime zones but softening it by sending us vaccines," he told ABS-CBN News.
The Chinese embassy in Manila on Tuesday lashed out at the US on Twitter after it backed the Philippines, saying Washington was "not a party to the South China Sea issue".
"Fanning flames and provoking confrontation in the region will only serve the selfish interest of [an] individual country and undermine the regional peace and stability," it tweeted, tagging the official account of the US embassy in Manila.
Cabalza said China was engaged in "a sabre-rattling act after it failed to get the nod of equality from Washington in its recent dialogue in Alaska".
The Philippine military officer said China had probably "played out" what was happening in Whitsun Reef in one of their scenarios. "Maybe we are just taking part in the scenarios that they built up, and they will have appropriate responses," he said.
By contrast, he said, there had been no discussion between the Philippines and the US on what to do if certain incidents happened. "Our experience in the armed forces, when we talk with the Americans, they say, 'OK we'll study it.'"
Additional reporting by Reuters