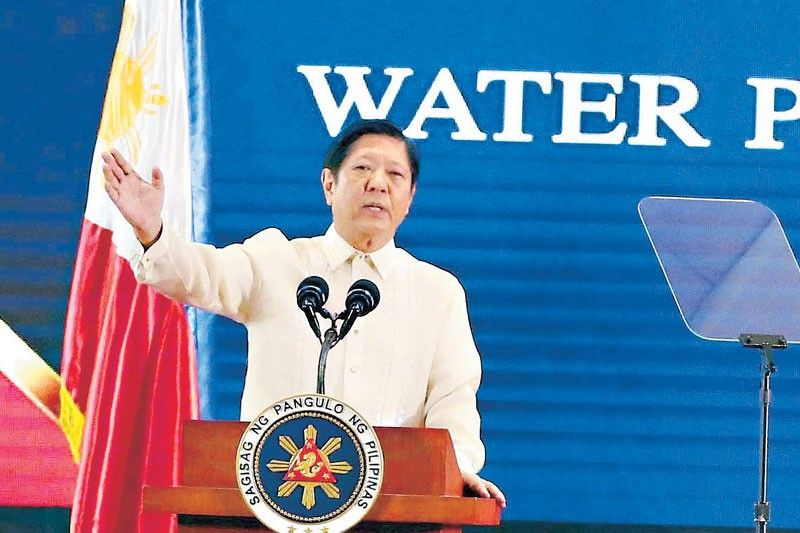 MANILA — President Marcos has signed an executive order creating a water resource management office (WRMO) as part of efforts to address what he called a "water crisis" threatening the country.
"When they say water is life, it's not just a cliché, it's a truism. And it is something that we must always keep in mind especially now. And that's why… I just signed an executive order wherein we have created the Office of Water Management," the President said yesterday at the opening of the sixth edition of the Water Philippines Conference and Exposition in Pasay City.
He said a water supply problem would have a "debilitating" effect on the economy if it persists, noting that the resource is also used in agriculture and power generation. Malacañang has yet to release a copy of the EO.
"There are many agencies that are involved in water supply and water management and it has just evolved that way. But what we are going to try to do is to make it a more cohesive policy so that there is planning at the national level and in that way we can maximize the management of what water we have," he added.
Marcos noted there are pending bills in Congress that seek to create a Department of Water Management. The Office of Water Management will handle water-related matters until the bills establishing a water department are passed.
Last month, Marcos approved the creation of a water resource management office to ensure sufficient water supply in the country and to address environmental challenges. He cited the need for a plan that would serve as a roadmap for agencies involved in water management.
In a previous statement, the Presidential Communications Office said an EO would enable the National Water Resources Board (NWRB), Metropolitan Waterworks and Sewerage System (MWSS), Local Water Utilities Administration and the other water-related agencies of the Department of Environment and Natural Resources (DENR) to have a collaborative mechanism to implement programs.
The office will be under the DENR and will be tasked to formulate and ensure the implementation of an integrated water management plan. It will also work closely with all relevant agencies, local governments, the private sector, civil society and communities on water-related matters.
In the same speech, Marcos cited the need to bring water management strategies down to the grassroots level.
"I was very surprised in the past years, even as senator, even as governor, that no one was speaking about water problems. Whereas every single urban community and even some rural communities in the Philippines have a water crisis," the Chief Executive said.
"And it's something that we have continually postponed. We do not examine it. We do not look at it, just find other ways and put up with the idea that once in a while we'll have to pull out our buckets and fill our bathtubs with water because there's not going to be water for the next 24 hours," he added.
Despite the water issues confronting the country, Marcos expressed optimism that the problems would be solved because of the availability of technologies and the desire of the government and the private sector to ensure enough supply of the resource.
"We are facing some serious challenges and we really need to work very hard together," Marcos said.
"I know that you are all experienced and are all committed to making, giving our people the water supply, fresh water supply that they need, and we'll work together on that. It will not be the work of a day or of a week, but we will start now and we will continue until it's done," he added.
MWSS welcomes EO
With Marcos' signing of the EO, the Metropolitan Waterworks and Sewerage System said it now sees faster implementation of its water security roadmap.
"We support the WRMO created by the President. Somebody will now be able to help us implement our water security roadmap," MWSS administrator Leonor Cleofas said in a phone interview.
"The WRMO will be able to help us in the permits and clearances, and also assistance from DENR will help us expedite project implementations," Cleofas said.
Maynilad Water Services Inc. said the WRMO will allow entities to coordinate water projects with a single entity.
"Maynilad has always been supportive of the creation of a single office that can oversee water resource management, which is currently handled by more than 20 government agencies," Maynilad corporate communications head Jennifer Rufo said in a text message.  – Alexis Romero, Danessa Rivera, Bella Cariaso