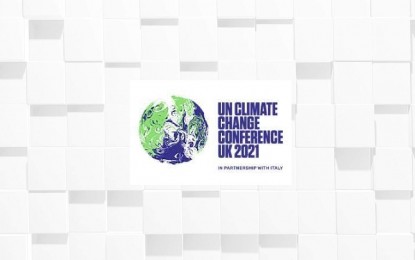 MANILA – The Philippines is expected to "demonstrate its leadership" in the upcoming United Nations Climate Change Conference 26 (COP26) by calling for actions that would help achieve global goals.
The COP26, which was supposed to be held in November last year, will be hosted by the United Kingdom in partnership with Italy from October 31 to Nov. 12, 2021 in the Scottish Event Campus in Glasgow.
"We are optimistic that the Philippines will demonstrate its leadership at COP26 on a number of calls for action that will halt deforestation, conserve biodiversity, maintain functional ecosystem services, and capitalize on the opportunities offered by the transition to clean energy sources, particularly renewable energy," said UK Ambassador Laure Beaufils, in a briefing on Tuesday.
The Philippines is ranked 118th in the recent Notre Dame Global Adaption Initiative index, which summarizes a country's vulnerability to climate change and other global challenges in combination with its readiness to improve resilience.
As part of its commitment to the Paris Agreement, the Philippines submitted this year its nationally determined contribution to slash by 75 percent its emission by 2030, a development welcomed by the UK.
"The UK and Italy are committed to continuing to support the Philippines in delivering these ambitions. We are very proud of the strong partnership that we have built in this space," Beaufils said.
The Philippine delegation will be led by Finance Secretary Carlos Dominguez III and Foreign Affairs Secretary Teodoro Locsin, Jr.
UN Philippines Economist John Alikpala said the nexus between high rates of malnutrition, repeated climate shocks, and the pandemic have put more at risk Filipinos' food and nutrition security.
He added that migration has also become one of the coping mechanisms of affected Filipinos facing climate change.
Alikpala believes a big set of issues will emerge after COP26 and would require a follow-up at the country level.
"There will be a need to keep up the momentum after COP26 and we are committed to working with the Philippine government and development partners to achieve that," he said.
READ: Duterte OKs 75% emissions reduction PH commitment by 2030
The UK Embassy said COP26 will be the first test of the Paris Agreement, which sets out a long-term goal to limit global warming below two degrees Celsius, preferably 1.5 degrees compared to pre-industrial levels.
To achieve this, countries need to cut by half greenhouse gas emissions by 2030 and reach net-zero by 2050.
Beaufils said this year's COP26 is hoping to accelerate the phaseout of coal as well as secure more net-zero commitments, investments in renewable energy, halting of fossil fuel subsidies, and rollout of electric vehicles.
It also seeks to raise USD100 billion a year to support developing countries, like the Philippines, in their efforts to adapt and mitigate.
French Ambassador Michèle Boccoz echoed the need to further strengthen climate commitment and raise ambitions to halt what could become a catastrophic global warming.
"The urgency to act has never been as important as it is today," she said, citing the 2020 UN Environment Program report that projects a temperature rise in excess of three degrees Celsius this century despite a brief dip in carbon dioxide emissions caused by the Covid-19 pandemic.
"Climate change knows no borders. It is our belief that multilateral cooperation, together with a shared sense of responsibility, is key to ensuring a better future. It is not too late to act," she added.
Italian Ambassador to the Philippines Marco Clemente also said they are committed to make the Glasgow Conference a resounding success.