MANILA – The Philippines' banking system has proven its resiliency several times and the current pandemic is not an exemption, Bangko Sentral ng Pilipinas (BSP) Governor Benjamin Diokno said.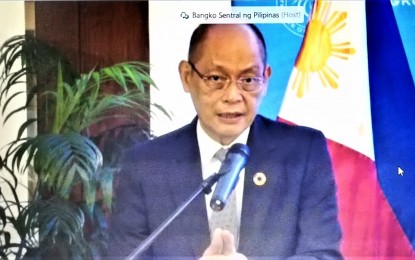 BSP Governor Benjamin Diokno. (File photo)
In his speech during The Manila Times virtual economic forum on Friday, Diokno said the domestic banking system remains sound and stable amid the virus-induced pandemic.
He said the sector's performance is among the key factors why the economy is expected to recover this year.
The other factors are the quarter-on-quarter gross domestic product (GPD) improvement in the last quarter of 2020, better business and consumer outlooks, within-target inflation, ample domestic liquidity, robust external payments position, and manageable fiscal deficit.
Diokno said domestic financial institutions' capital and liquidity buffers "proved to be useful" and were achieved because of compliance with regulatory policies and years of favorable banking conditions.
To date, the capital adequacy ratio (CAR), which is a measure of a bank's financial health, stands at 16.3 percent on a solo basis and 16.7 percent on a consolidated basis, both of which are way higher than regulatory standards.
Despite the pandemic, he said, the proportion of non-performing loans (NPLs) and non-performing assets (NPAs) of banks remain modest as of end-2020 at 3.1 percent and 2.1 percent, respectively.
"These numbers compared well within the double-digit levels recorded during the Asian Financial Crisis," Diokno said.
This outturn from the banking sector, along with other domestic fundamentals, makes authorities believe that the domestic economy is moving in the right direction, he said.
"The robust structural characteristics and sustained policy discipline are the most effective tickets out of this pandemic," Diokno said.
He noted that the central bank "will intensify its monitoring and surveillance over its supervised institutions to ensure that they remain responsive to emerging risks and to promote the continued soundness, stability, resilience, and inclusivity of the banking system, particularly through the pursuit of enhanced digitalization."
Relatively, he said, the Asean-5 economies of Indonesia, Malaysia, the Philippines, Singapore, and Thailand are projected to post a rebound this year "though downside risks continue to dominate."
"Improved global economic growth prospects and country-specific improvements amid vaccine developments and sustained fiscal policy support are expected to lend support to these economies' growth prospects for the year," he added. (PNA)