Most of the
New South Wales
coast will be battered by heavy rain over the coming week however Sydney is in the firing line today.
More than a month's worth of rain is set to lash Sydney and the Illawarra today with multiple flood warnings in place across the city.
Up to 150 millimetres of rain is predicted today.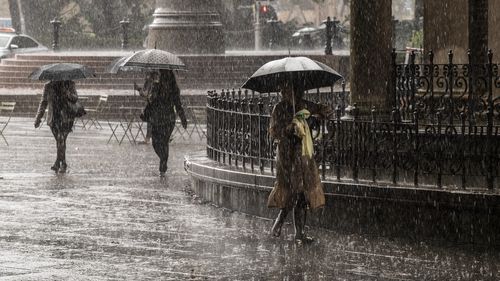 The Bureau of Meteorology has warned this could cause flash flooding across Sydney and has warned motorists to avoid unnecessary travel.
The timing could also not be worse for NSW residents as school holidays begin today and many families would be planning to head away.
"A surface trough is expected to deepen offshore from the Sydney Metropolitan area today and remain near-stationary over the remainder of the weekend, driving widespread showers and heavy rain along parts of the eastern coast of NSW," the bureau said.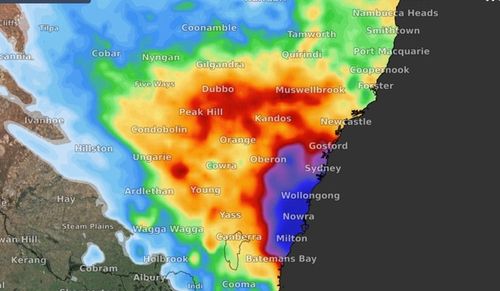 "An East Coast Low may form within the trough early on Monday and linger until Tuesday, which will prolong this significant rainfall event across multiple days.
"There is the potential for an East Coast Low to develop overnight Sunday or early Monday off the coast, which would prolong this heavy rainfall event into early next week, with consecutive days of heavy rainfall possible.
"If an East Coast Low does form, damaging wind gusts may become a risk late on Sunday and into next week, depending on the strength and location of the low."
Meteorologist Jonathan How said overnight the Illawarra saw more than 200 millimetres of rain.
State Emergency Services responded to more than 230 calls for help in the past 24 hours, with the majority coming from the Illawarra.
The Hawkesbury Nepean is a region at risk of major flooding for the fourth time in just two years.
Meteorologist Jane Golding warned yesterday the catchment is already saturated and this incoming deluge could cause rivers to rise.
Residents are now preparing for yet another flooding event after barely recovering from the last just a few months ago.
Meanwhile, in Queensland will see up to 25 millimetres of rain over the weekend before conditions ease temporarily.
The weather system may pick up again on Monday bringing further wet weather.