Property market posted an 11% rise in median values, masking rising homelessness and a widening social divide, critics say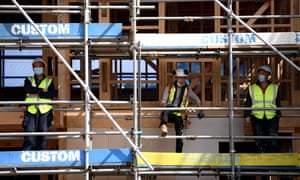 New Zealand house prices have defied the Covid-19 recession and soared to record levels, prompting warnings that the hot property market will damage the country's long-term economic wellbeing and widen inequality.
New Zealand, which already had some of the most unaffordable housing in the world, saw median prices rise 11.1 % in the year to September, while the median price in Auckland reached nearly $1m (US$660,000). Prices rose 2.5% across the country in September compared with August.
But while cheap loans and looser lending requirements designed to stimulate the economy during the pandemic have attracted investors back into the market, many fear that first-time buyers and lower-income groups will be increasingly left behind by the rise in prices.
Investors have been given a big advantage after the requirement to have a 30% deposit to buy an existing house was removed, he said. The measure was aimed at encouraging investment in new houses to ease a chronic shortage but was lifted to stimulate the market during Covid-19.