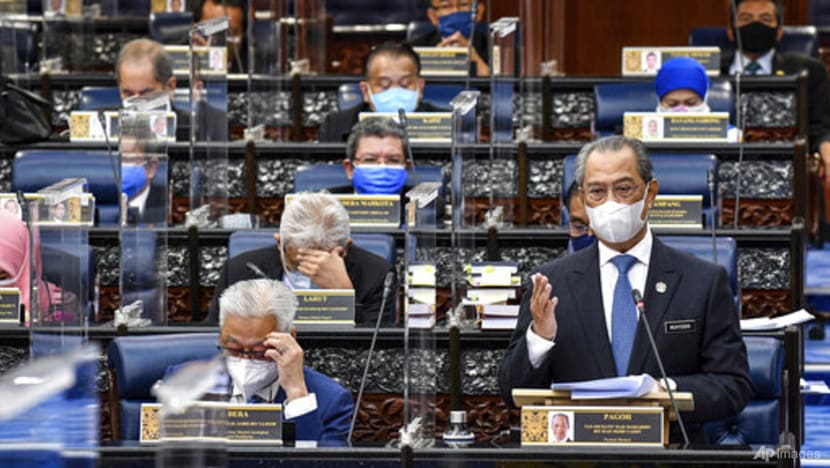 KUALA LUMPUR: Mr Muhyiddin Yassin stepped down as Malaysia's eighth prime minister on Monday (Aug 16).
He is the shortest-serving prime minister in the country's history, having occupied the top office for less than 18 months.
The 74-year-old was sworn in as prime minister in March last year after the collapse of the Pakatan Harapan (PH) government, but lost parliamentary majority this month when one of his Perikatan Nasional (PN) allies, United Malays National Organisation (UMNO), withdrew its support for him.
His time in office has been marked by an unprecedented health and economic crisis as well as infighting within his ruling bloc. Here's a look back at his tenure:
COMING INTO POWER
Mr Muhyiddin came into power after he pulled Parti Pribumi Bersatu Malaysia (Bersatu) out of the then-ruling PH coalition in February 2020 following infighting over succession plans.
Bersatu chairman Mahathir Mohamad, who was the reigning prime minister, tendered his resignation following Bersatu's exit from PH.
Malaysian King Al-Sultan Abdullah Ri'ayatuddin Al-Mustafa Billah Shah then summoned all MPs to the palace and decided that it was Mr Muhyiddin who likely commanded the support of the most number of parliamentarians.
Mr Muhyiddin, who is Pagoh MP, was sworn in as prime minister on Mar 1, 2020, as the COVID-19 pandemic was beginning to rage in the country.
He formed a Cabinet with representatives from Bersatu, Parti Islam Se-Malaysia and Barisan Nasional (BN) components including UMNO and the Malaysian Chinese Association.
This change in administration was widely criticised as a betrayal to the people's mandate in the 14th general election, which rejected scandal-hit BN as the federal government.
In a televised national address announcing a RM250 billion (US$59 billion) COVID-19 stimulus package on Mar 27, Mr Muhyiddin admitted that the government may not be the government that the people voted for. "But I want all of you to know that this government cares for you," he stated.
Dr Mahathir and party MPs aligned to him were later sacked from Bersatu.
PN'S HANDLING OF COVID-19 PANDEMIC
Mr Muhyiddin first brought the country under a lockdown in March to curb the spread of the virus. Since then, Malaysia has been under a varying degree of lockdown measures implemented based on the current COVID-19 situation.
The curbs were initially effective in bringing down the caseload. However, things took a turn for the worse after the Sabah state election in September last year and subsequently continued to spike in 2021 despite the declaration of a state of emergency.
PN's handling of the pandemic has been met with criticism, with what has been perceived as flip-flopping policies that sometimes lack clarity, eroding public trust. There was also some anger over ministers breaching the COVID-19 rules.
From different versions of movement control order (MCO) to a total lockdown, the PN government then attempted to chart a path out of the pandemic with the National Recovery Plan (NPR) using vaccination rate and healthcare capacity as thresholds.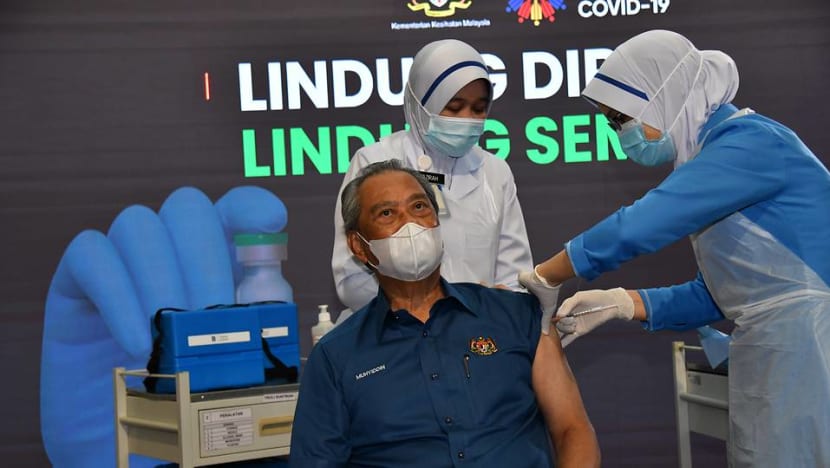 The government also aggressively ramped up the vaccination programme since it kicked off officially on Feb 24, with Mr Muhyiddin being administered his first dose of Pfizer-BioNTech vaccine.
The government's initial goal was to vaccinate at least 80 per cent of its population within a year. The successful implementation of the programme encouraged the government to modify the goal and announce that 100 per cent of adults may now be fully vaccinated by October.
Increasing the vaccination capacity is the most effective way for Malaysia to get out of the COVID-19 pandemic crisis, Mr Muhyiddin had stressed.
As of Monday, the country has recorded more than 1.4 million COVID-19 cases and 12,000 deaths. More than 45 per cent of the country's adult population have been fully vaccinated so far.
PRESSURE FROM POLITICAL ALLY UMNO
For the most part of his time in office, Mr Muhyiddin was hamstrung by dissent within PN, with UMNO repeatedly threatening to withdraw its support.
Among other factors, this stemmed from how both UMNO and Bersatu target the same voter base, and that UMNO is the party with the most number of Lower House seats in the coalition.
Bersatu has been regarded as an offshoot of UMNO. Mr Muhyiddin was serving as deputy prime minister from UMNO when he was sacked by then party president Najib Razak in 2015 for speaking out over the 1Malaysia Development Berhad scandal.
Following PH's collapse at the federal level last year, state administrations in Melaka, Johor and Perak also fell to PN, with UMNO taking the chief minister's posts in these three states.
UMNO tried to engineer a change in government in Sabah as well but this was pre-empted by incumbent chief minister Mohd Shafie Apdal from Parti Warisan Sabah, who dissolved the state legislature and paved the way for a state election.
PN eventually won and Bersatu claimed the post of Sabah chief minister.
Throughout Mr Muhyiddin's term, some UMNO leaders, led by party president Ahmad Zahid Hamidi, had at various junctures publicly criticised his leadership. UMNO-led BN announced that it would only support Mr Muhyiddin until the next general election.
To ease the political pressure against him, Mr Muhyiddin sought for the king's approval to declare a state of emergency in the country. However, this was initially rejected by the king.
King Al-Sultan Abdullah eventually declared a state of emergency in Malaysia on Jan 12 as the healthcare system was said to be at a breaking point.
During the state of emergency, parliament and state legislatures could not meet and elections could not be held, effectively putting all political challenges against the government on hold.
To counter UMNO's renewed efforts to undermine his leadership, Mr Muhyiddin appointed Mr Ismail Sabri from UMNO as deputy prime minister in July but this failed to appease UMNO.
RARE ROYAL REBUKE MAY HAVE BEEN BREAKING POINT
Under pressure from the royals, Malaysia's Lower House reconvened for a special meeting in late July, ahead of the expiry of the state of emergency on Aug 1.
The government's handling of the revocation of emergency ordinances became a point of contention when it was revealed that the government cancelled the ordinances before obtaining the king's consent. 
PN was accused of disrespecting the monarch following a rare public rebuke from the palace. The parliament meeting was cut short after Opposition Leader Anwar Ibrahim filed a no-confidence motion against Mr Muhyiddin.
Subsequently, Mr Muhyiddin conceded that the repeal process was incomplete and the emergency ordinances would be debated in the parliament in September.
MUHYIDDIN'S RESIGNATION
In early August, it has become apparent that Mr Muhyiddin has lost his razor-thin parliamentary support after Ahmad Zahid, the UMNO president, said he has gathered a sufficient number of statutory declarations (SDs) from party lawmakers on withdrawing their support for the prime minister.
Mr Muhyiddin initially insisted that he still commanded a majority and would prove his legitimacy via a motion of confidence in the September parliament meeting. However, he later appeared on national television to appeal for bipartisan support, promising political reforms.
His proposal was roundly rejected by opposition parties as well as UMNO. He tendered his resignation on Aug 16 and was appointed caretaker prime minister until a new government can be formed.
In his resignation speech, Mr Muhyiddin apologised for his mistakes and shortcomings, while stressing that he would never conspire with kleptocratic groups and compromise judiciary independence just to stay in power.
"I hope the new government which takes over the administration of this country will take good care of all of you because it is the only thing that I care about."
"I care for you always," he said.