MANILA – President Ferdinand R. Marcos Jr. said Thursday that despite rising inflation, he is optimistic that the Philippines would not experience recession because of the continuous drop in the country's unemployment rate.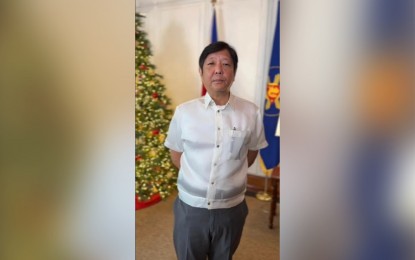 Pres. Ferdinand R. Marcos Jr. 
Marcos acknowledged that inflation in the country hit a 14-year high of 8 percent in November but pointed out that the jobless rate in October eased to 4.5 percent, its lowest record since the same period in 2019.
"Ang balita na tumaas ang inflation rate na hanggang 8 percent last November. Mayroon naman kasabay na mas magandang balita na bumaba ang unemployment rate sa four-and-a-half percent mula sa 5 percent (The news is that inflation rate increased to 8 percent last November. But it was also accompanied by the good news that the unemployment rate dropped to 4.5 percent from 5 percent)," he said in a video message sent to Palace reporters.
He expressed confidence that job growth would prevent the economy from further declining.
"Kaya't kahit papaano ay malakas ang loob natin na hindi tayo magkakaroon ng recession dito sa Pilipinas dahil masyadong mababa ang unemployment rate (So we are somehow confident that we will not have a recession here in the Philippines because the unemployment rate is too low)," he said.
Marcos likewise renewed his commitment that his administration would prioritize the creation of more quality jobs in the country.
"Kung maaalala ninyo sa pagsimula namin dito sa administrasyong ito ay pinag-usapan na namin ay trabaho talaga ang aming uunahin. Kaya't 'yan ang nakikita ngayon natin na nangyayari. Ipagpatuloy lang natin 'yan (If you remember when we started here in this administration we said our priority is really work. So that's what we see happening now. Let's just continue that)," he added.
Meanwhile, he assured that the government would continue to find ways to cushion the impact of the rising prices of basic goods and services.
"Asahan ninyo na lahat ng paraaan na maari nating gawin ay gagawin natin para pababain ang inflation rate at gawing mas mabagal man lang ang pagtaas ang presyo ng kung anu-anong mga bilihin (Rest assured that we will do everything we can to lower the inflation rate and at least slow down the rise in prices of certain goods)," he said.
Data from the Philippine Statistics Authority (PSA) showed that inflation rose to 8 percent last month, faster than 7.7 percent in October.
The latest figure is the country's "highest recorded inflation since November 2008", when it soared to 9.1 percent amid a global financial crisis.
The country's unemployment rate dropped to 4.5 percent in October, lower than the 7.4 percent in October 2021 and 5 percent in September, according to data from the PSA's latest labor force survey.
The PSA survey results showed the number of unemployed Filipinos decreased to 2.24 million in October from 3.5 million a year ago, with 1.26 million securing employment this year.
lt indicated that the employment rate in October rose to 95.5 percent, from 95 percent in the previous month, the highest rate recorded since January 2020.
Based on the definition of American business magazine Forbes, a recession happens when a nation's economy experiences negative gross domestic product, rising levels of unemployment, falling retail sales, and contracting measures of income and manufacturing for an extended period.
"Recessions are considered an unavoidable part of the business cycle – or the regular cadence of expansion and contraction that occurs in a nation's economy," Forbes said