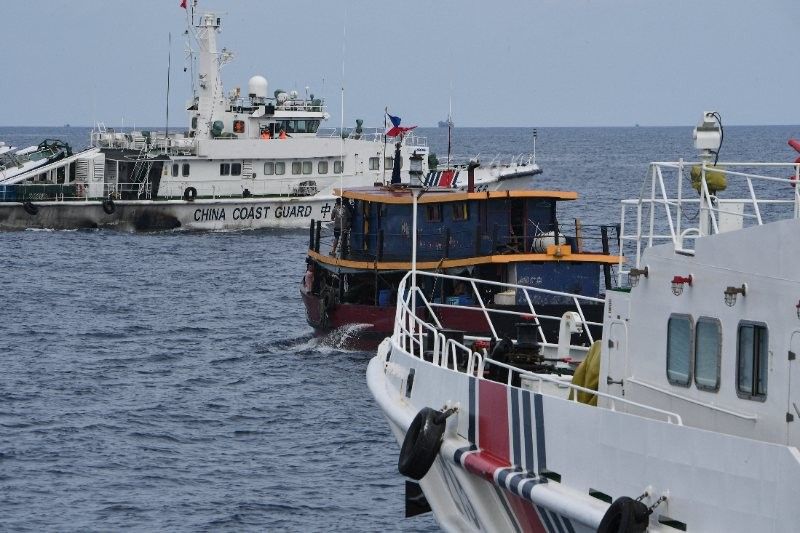 Manila, Philippines — The National Task Force for the West Philippine Sea said that President Ferdinand Marcos Jr. has called for a "civilianized" approach to managing the situation at Ayungin Shoal.
Jonathan Malaya, spokesperson for the NTF-WPS, explained in an interview with ANC how to respond to the presence of China Coast Guard and maritime militia vessels near Ayungin.
"That is a decision that has to be made by higher authorities because we want to keep the tension low in the WPS," Malaya said
"And there is an instruction from the president to civilianize the approach to Ayungin. So it's going to be Coast Guard against Coast Guard, and the Navy is only in support," he added.
During the 43rd ASEAN Summit Retreat Session, Marcos discussed the persistent challenges being faced by the country, stating that his vision for the South China Sea as a "sea of peace, stability, and prosperity" remains a distant reality due to unresolved territorial disputes and escalating tensions in the region.
Beijing asserts ownership over most of the South China Sea, including areas referred to as the West Philippine Sea by Manila. However, a 2016 arbitration ruling found no legal basis for China's claim. China's claim of historic sovereignty also overlaps with the exclusive economic zones of Vietnam, Malaysia, Brunei and Indonesia.
China Coast Guard and maritime militia vessels have engaged several times in provocative actions, including using water cannons against Philippine ships during resupply missions.
The Ayungin Shoal, a submerged reef in the Spratly Islands, is situated within the Philippines' exclusive economic zone and continental shelf, underlining the country's sovereignty.
The BRP Sierra Madre, a rusty World War II-era ship was intentionally grounded by the Philippine Navy at Ayungin Shoal, also known as Second Thomas Shoal, in 1999. It serves as the country's outpost in the West Philippine Sea.
The handful of Filipino marines stationed on the crumbling ship to assert the Philippines' territorial claims depend upon resupply missions to survive their remote posting.
As of September 12, the Department of Foreign Affairs has lodged a total of 43 diplomatic protests against China's actions in the West Philippine Sea this year. — with a report from Gaea Katreena Cabico