MANILA – A total of 16,888 agrarian reform beneficiaries (ARBs) nationwide have received their individual electronic land titles and have benefited from the Department of Agrarian Reform's (DAR) Support to Parcelization of Lands for Individual Titling or Project SPLIT.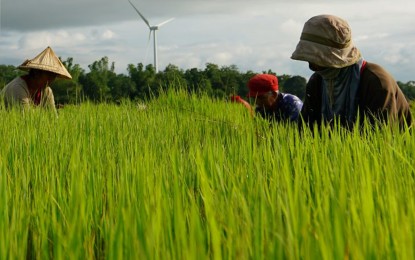 (File photo) 
In a press release on Tuesday, DAR Secretary Conrado Estrella III assures that despite the tedious and rigorous process of subdividing collective certificates of land ownership awards (CCLOAs), the DAR is slowly but steadily making some progress in Project SPLIT.
DAR Assistant Secretary for Field Operations Joey Sumatra, concurrent SPLIT national director, said a total of 18,802 e-titles covering 23,898 hectares of agricultural lands nationwide have been distributed.
He said that DAR has already validated around 522,688 hectares out of the 591,572 hectares funded for parcelization.
This is equivalent to 88 percent accomplishment, covering 50,249 previously distributed CCLOAs.
However, Sumatra clarified that the newly validated agricultural lands are still subject to re-documentation.
This is to complete the required documents for each ARB to be submitted to the Registry of Deeds (RODs) for eventual registration.
Meanwhile, Estrella announced that documents for around 38,196 hectares of agricultural lands have been submitted to various RODs (Register of Deeds) nationwide, and have been cleared for processing and generation of e-titles to be released and distributed to ARBs within this year.
"Subdividing collective CLOAs for each individual ARBs undergoes a very rigid process and we cannot afford to make a mistake," he said.
He said that around 107,344 hectares of farmlands have been re-documented and are due for submission to the RODs for final evaluation and assessment.
The RODs will do the validation of data, revisit copies of CCLOAs with annotated ARBs, the approved survey plans, and the actual master lists of ARBs, while the DAR-SPLIT validation team is tasked to establish who among the listed ARBs have already passed away, abandoned or sold their rights of ownership, are still in possession of their respective shares of farm lots, and those merely squatting in the absence of any proof of transfer of rights of ownership.
"Everything is really done under close scrutiny since we do not want to redo the process. We want to make sure that everything is in order," Estrella said.
The World Bank-funded SPLIT project aims to improve land tenure security and stabilize the property rights of some 1.14 million ARBs nationwide covering 1.37 million hectares of land, by subdividing the previously distributed CCLOAs, and turning them into individual land titles for distribution to qualified ARBs.