Joe Biden announced a ban on US imports of Russian oil on Tuesday, the latest effort to cut off foreign revenue as punishment for the invasion of Ukraine.
"Today I'm announcing the United States is targeting the main artery of Russia's economy," Biden said at the White House.
"We're banning all imports of Russian oil and gas and energy. That means Russian oil will no longer be acceptable at US ports, and the American people will deal another powerful blow to Putin's war machine."
As recently as Sunday, the Biden administration appeared not to be in favor of a move critics of Russia say is the best – perhaps only – way to force Moscow to pull back.
But on Tuesday, Biden noted the Russian oil ban had attracted "strong bipartisan support" in Congress.
According to the US Energy Information Administration, Russian oil made up about 3% of all crude shipments to the US last year. Overall, Russian oil and petroleum products represented about 8% of US oil imports.
European countries have a far greater reliance on Russian oil and gas, and Biden said America's allies would probably be unable to issue an import ban.
"We're moving forward with this ban understanding that many of our European allies and partners may not be in a position to join us," Biden said.
"We can take this step when others cannot, but we're working closely with Europe and our partners to develop a long-term strategy to reduce their dependence on Russian energy as well."
Natural gas from Russia accounts for one-third of European consumption. The US does not import Russian natural gas.
Caroline Bain, chief commodities economist at Capital Economics, said: "In terms of impact on supply in the market it's not going to be huge [in the US] but it's a big statement to be putting out there and there will be pressure exercised on larger consumers, including the EU.
"The EU is likely to take a more considered approach and not announce a complete ban tomorrow, but look at ways to reduce its reliance on Russian energy."
On the markets, crude oil futures extended gains, rising 4% to $124.21 in New York.
Despite the executive action taken by Biden, the House majority leader, Steny Hoyer, told reporters the House would proceed with a vote on legislation banning Russian oil and energy imports, as part of what he called a unified effort by the administration and Congress "to impose the deepest consequences possible on Russian criminal behavior".
"There is general agreement that we need to take additional actions, and I think you will find that the stopping of buying Russian oil and energy products will be overwhelmingly passed in a bipartisan way," the Democrat said.
Other legislation under consideration would suspend normal trade relations with Moscow, allowing Biden to levy tariffs on products from Russia and Belarus, Hoyer said. Relations could be restored pending certain conditions, but the majority leader said he did not have additional details.
On Tuesday afternoon, on a visit to Fort Worth, Texas, to address military veterans, the president was asked by reporters as he disembarked from Air Force One if he had a message for the American people on gas prices.
"They're going to go up," Biden said. And when asked in follow-up: "What can you do about it?" he responded: "Can't do much right now … Russia is responsible."
Biden's move followed pleas by the Ukrainian president, Volodymyr Zelenskiy, to cut off the imports, a glaring omission to massive sanctions over the invasion. Energy exports have kept cash flowing to Russia, despite severe restrictions on its financial sector.
Biden explained his reluctance to impose energy sanctions at the outset of the conflict two weeks ago, saying he was trying "to limit the pain the American people are feeling at the gas pump".
He acknowledged on Tuesday that US gas prices, which hit a record high this week, will probably continue to rise because of the Russian oil ban. The US and its allies are releasing 60m barrels of oil from strategic reserves to help lower prices, and Biden said his administration would take additional steps to limit the financial impact of "Putin's price hike" on American families.
"This is a step that we're taking to inflict further pain on Putin but there will be costs as well here in the United States," Biden said. "Republicans and Democrats alike understand that. Republicans and Democrats alike have been clear that we must do this."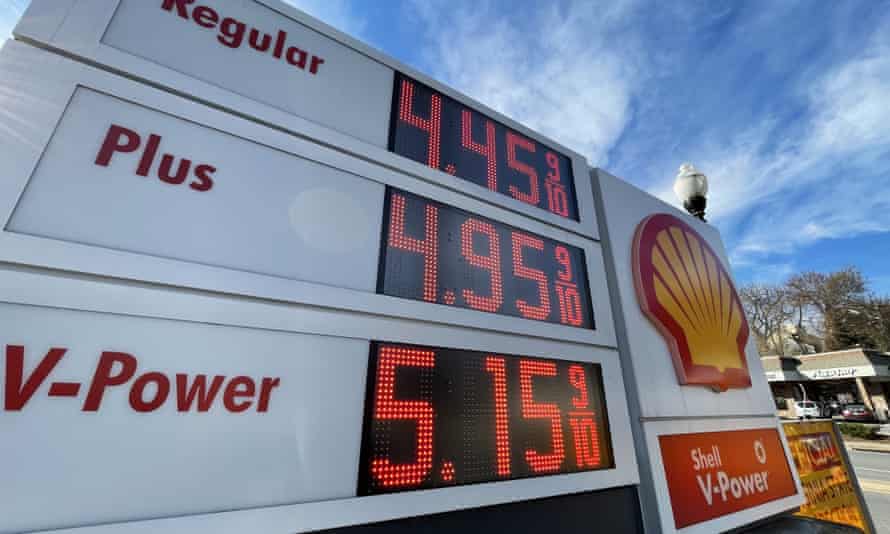 The US and international partners have imposed sanctions on Russia's largest banks, its central bank and finance ministry, and moved to block certain financial institutions from the Swift messaging system for international payments.
But rules issued by the US treasury department allowed Russian energy transactions through non-sanctioned banks not based in the US, in an effort to minimize disruption to global energy markets.
Inflation, at a 40-year peak and fueled in large part by gas prices, has hurt Biden politically heading into midterm elections. The invasion of Ukrainehas potentially worsened supply chain problems and inflation. Biden previously highlighted Russian energy carve-outs because they would help protect US families and businesses.
Restricting the world's largest exporter of natural gas and second-largest exporter of oil, after Saudi Arabia, could hurt the unity US officials say is key to confronting Putin. Analysts say US-Saudi relations are likely to play a big role in the outcome of efforts to maintain oil supplies.
The Biden administration is reportedly considering moves to improve relations with Riyadh damaged by the murder of Jamal Khashoggi, a Washington Post journalist, a killing approved by the crown prince, Mohammed bin Salman.
"Russia and Saudi Arabia are the world's two largest oil exporters," said David Rundel, a former US diplomat now an analyst for Arabia Analytica.
"If we had good relations with Saudi Arabia, they would have stepped in to help as they have done many times in the past. But our relationship with Saudi leaders continues to worsen. So, get ready for $6 a gallon."