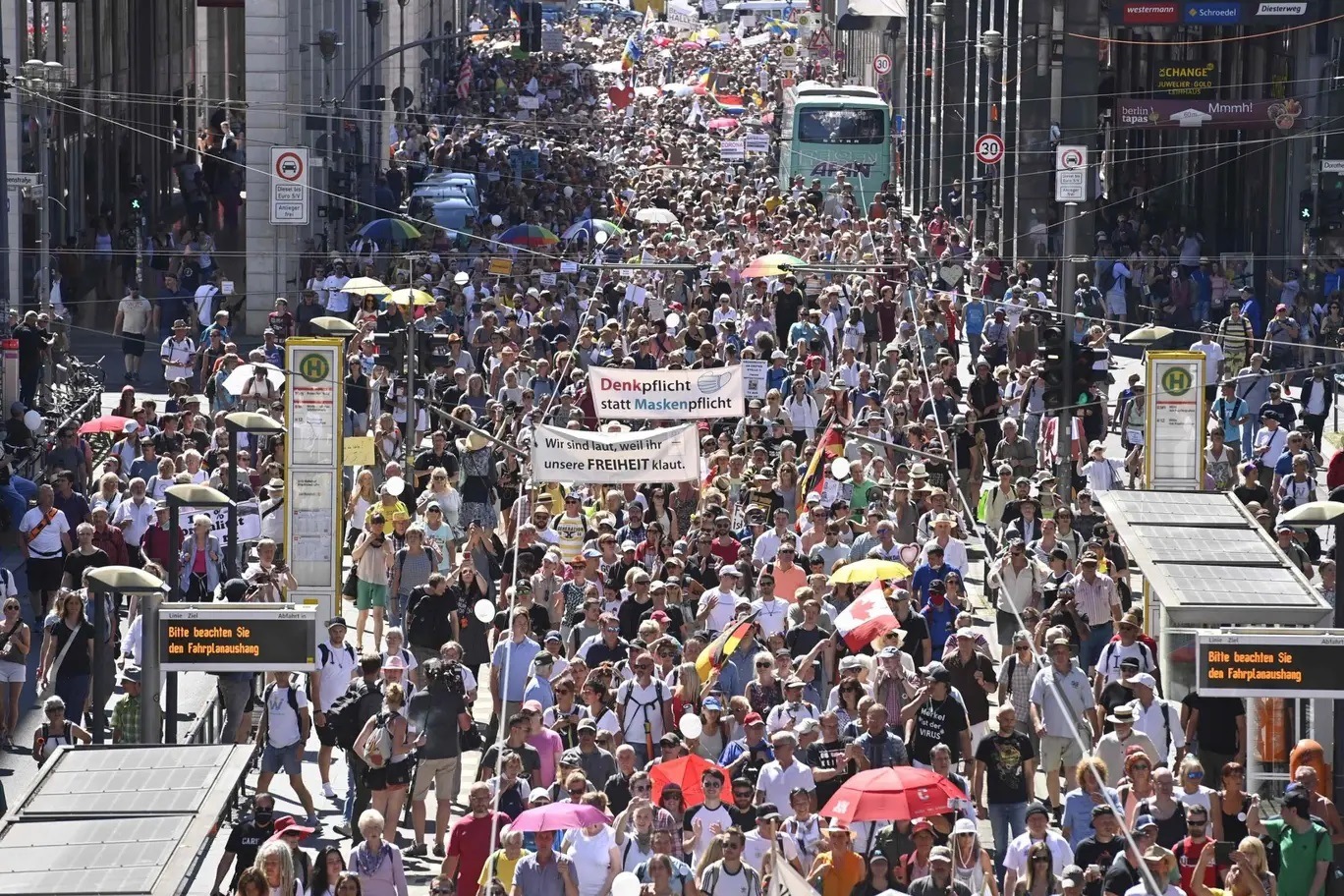 Berlin, Germany, August 2, 2020. Source.
Berlin, Germany, used to be the most famous city in the world representing tyrannical rule, as for decades after World War II the city was divided between "west" and "east" with a wall and guards preventing people from going from one side of the city to the other.
During this "Cold War" period between Russia and the U.S., Americans were taught that the "west" side of Berlin stood for "freedom," while the "east" side represented tyrannical communist rule.
This past weekend, (first weekend of August 2020), citizens of what was once Nazi Germany led the world by turning out in the tens of thousands to protest against the tyranny of the COVID response by government, and the citizens united to proclaim they wanted "freedom," and that they did not believe the Government's version of COVID that has led to these massive loss of freedoms around the world.
And they were not alone. Demonstrations happened all over Europe, with some estimates that the total number this past weekend was around 1 million in number.
In Berlin alone, estimates ranged from 15,000 to 20,000 who turned out to demand their freedoms back. Some commentators in the Alternative Media are claiming that the Frontline Doctors press conferences from the week before, which were censored by the corporate media and Big Tech, but spread like wildfire anyway in spite of the attempts at censorship, were largely responsible for these turnouts.
Comments recorded in the media in Europe from some of the protesters seem to confirm this, as the comments echoed the same message that was communicated during the Frontline Doctors Summit in Washington D.C. last week, that there were thousands of doctors who disagreed with the Government "health authorities" and that their voices are being suppressed for evil purposes.
Knowing that there has been a 100% successful cure available for COVID since the beginning of the Plandemic is apparently waking up some people, at least in Europe, as a common chant in Germany was "Masks make us slaves."