Record daily infections in Germany; Naples hospitals at risk of being overwhelmed; France reports slowdown in rate of new cases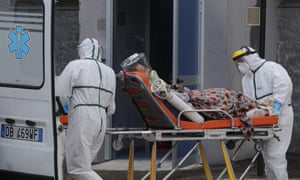 Paramedics take a Covid-19 patient to the Antonio Cardarelli hospital in Naples, Italy, for treatment. Photograph: Salvatore Laporta/IPA/Rex/Shutterstock
Germany's partial lockdown could be extended beyond the end of the month and hospitals in parts of Italy are near breaking point as Covid-19 cases continued to surge in both countries, despite positive signs elsewhere in Europe.
New daily coronavirus cases in Germany hit a record of 23,542 on Friday, the Robert Koch Institute for infectious diseases reported, prompting government spokesman Stefan Seibert to say measures "were not expected to be relaxed" by next week.
Federal and regional leaders are due to meet on Monday to discuss whether the country's closure of all gyms and entertainment venues has slowed the disease's spread, but the health minister, Jens Spahn, said it was too early to say.
We will see in the next few days whether they are making a difference," Spahn said. Winter gatherings and festivities such as office Christmas parties were in any event unlikely to go ahead.
Christmas markets, traditional St Martin's Day parades and Germany's carnival season, which should have started this week, have all been cancelled, while more than 300,000 school pupils are in quarantine along with about 30,000 teachers.
The southern Italian city of Naples, meanwhile, was braced for further restrictions as hospitals risked becoming overwhelmed by new cases, with medics forced to bring oxygen tanks outside to treat desperate patients waiting in their cars.
"The situation in Campania is out of control," the Italian foreign minister, Luigi Di Maio, said after a video emerged showing an 84-year-old man dead in a hospital bathroom where he had been waiting for a Covid test. "We need urgent restrictions… people are dying."
Hundreds of people from Campania have been travelling to neighbouring Lazio in search of urgent medical help as political wrangling continues over whether to impose a total lockdown in the region.