Common ground rests on a 'peace plan' aided by splintered Arab solidarity over Palestine.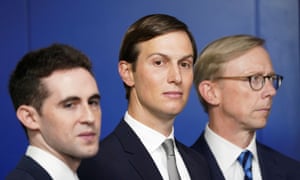 The peace deal that few saw coming had been gathering steam in plain sight. Even before the election of Donald Trump, Israel and the UAE had been inching closer, drawn together by three factors – enmity with Iran, a loathing of the Muslim Brotherhood, and a mutual belief that the agreed formula for peace with Palestinians was no longer working.
More than anything else, combating Iran became the conduit for the two sides. The adage of a foe of a foe becoming a friend has rarely been more apt. Tehran's determination to acquire a nuclear weapon, its extensive reach into the Arab world, potential to shut off the Strait of Hormuz, and Shia Islamic revolutionary zeal, provided enough common ground for both sides to sharply deepen intelligence links to strategic levels over the past four years.
Trust grew, as faith in the Palestinians waned, particularly in Abu Dhabi, where Israeli claims that the bedrock approach of land for peace was broken had won resonance, and the two-state solution, which had underwritten a collective Arab approach to peace, had been eclipsed by more pressing realities.