Civilian leader urges the public to protest against any return to a military dictatorship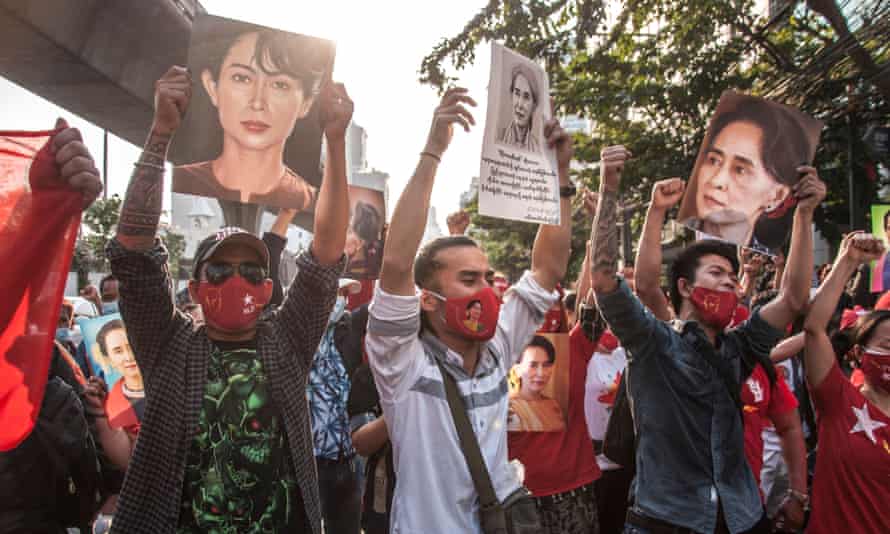 A National League for Democracy demonstration in Bangkok, Thailand against Myanmar's military coup.

Photograph: Peerapon Boonyakiat/Sopa Image/Rex/Shutterstock
Myanmar has been placed on knife edge, with activists fearing a further clampdown after the military detained Aung San Suu Kyi and other civilian leaders
in early morning raids
and took direct control of the country in a coup.
A statement attributed to Aung San Suu Kyi said the military, which directly ruled Myanmar for more than 50 years, was trying to reimpose a dictatorship. "I urge people not to accept this, to respond and wholeheartedly to protest against the coup by the military," it said.
Threat of Myanmar coup was never far away
Aung San Suu Kyi has not been seen since the coup, but a Facebook message posted on the account of Kyi Toe, the official spokesman of the ruling National League for Democracy (NLD), said she was being held at her official residence, adding: "She's feeling well — walking in the compound frequently."
The military's actions, which came a decade after it agreed to share power with civilian leaders, were universally condemned by governments around the world.
The US president, Joe Biden, called on the international community to press Myanmar's military to give up power, release detainees and refrain from violence against civilians. He threatened sanctions, adding that the US will defend democracy around the world.
"In a democracy, force should never seek to overrule the will of the people or attempt to erase the outcome of a credible election," Biden said.
The UN secretary general, António Guterres, said the developments represented "a serious blow to democratic reforms in Myanmar".