MANILA – President Rodrigo Duterte is never going to face trial before the International Criminal Court (ICC) over his administration's crackdown on illegal drugs.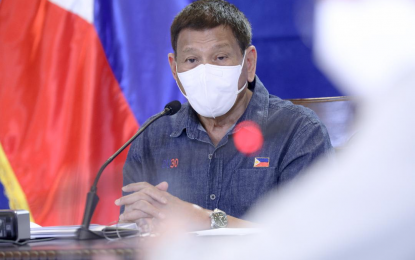 President Rodrigo Roa Duterte (Presidential photo by Joey    Dalumpines)
Duterte, in a pre-recorded speech late Monday night, lambasted the ICC after former prosecutor Fatou Bensouda sought authorization to allow the conduct of an investigation into the alleged crime against humanity committed during the administration's drug war.
"Itong ICC, b*llsh*t itong (This ICC is b*llsh*t). Why would I defend or face an accusation before white people? You must be crazy. Yung mga colonizers ito noon (They used to be colonizers). They have not atoned for their sins against the countries that they invaded including the Philippines. Tapos eto ngayon sila (And now), they're trying to set up a court outside our country and making us liable to face them," he said.
Duterte, a former prosecutor, said it is impossible to attain justice before the international court.
"Our laws are different. Our criminal procedure is very different. How are you supposed to get justice there?" he said.
He said he would only answer to local courts, adding he is ready to defend himself from a possible investigation into his anti-illegal drugs campaign.
"Ako magharap ng mga puti (We face white people)? I will readily face a court being accused in a Philippine court before a Filipino judge," he added.
Duterte again noted ICC has no jurisdiction over him since the Rome Statute was never published in a newspaper of general circulation or on the Official Gazette in the country.
He also defended his drug war, emphasizing that many local officials continued to be involved in the illegal drug trade because it gave them easy money.
"Narco-politics to e (This is narco-politics). There are mayors, yung iba patay na (some of them are dead)…Now we are not saying we are killing them. We kill them because they fight back," he said.
The Philippines withdrew from the Rome Statute that created the ICC after a preliminary examination into the drug war was initiated by Bensouda in February 2018.
The country's withdrawal from the ICC became official in March 2019. (PNA)