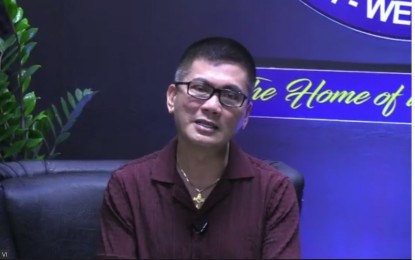 ILOILO CITY – The Department of Education (DepEd) 6 (Western Visayas) has directed the 21 schools' divisions in the region to check their schools' water systems to ensure their safety amid recorded cases of acute gastroenteritis in Iloilo.
DepEd-6 Director Ramir Uytico, in a virtual press conference on Friday, said not only Iloilo City but the entire region should help prevent the disease from infecting learners.
The divisions should check their water source, water tanks, and faucets, especially hand-washing areas.
He advised learners and teachers not to use the water in schools for drinking.
"At the regional office, I will require our medical officer to always coordinate with our medical officers in all 21 divisions because I don't want to say that this is just in Iloilo City. We will always engage our medical officers to go around schools and to check the water systems there," Uytico said.
Iloilo City Schools Division Superintendent Novelyn M. Vilchez, in the same virtual gathering, noted that no learner has tested positive for cholera but one suffered from acute gastroenteritis.
"What the LGU has done (is) we had a meeting two times already and the action was for all the wells of DepEd Iloilo City schools to be cleaned and disinfected because 90 percent of these wells are actually infected (with) coliform," she said.
Vilchez emphasized the need for constant and regular cleaning, disinfection, and chlorination of wells.
She also assured that their school personnel and learners bring their own water or buy from establishments selling bottled water.
Iloilo City Mayor Jerry P. Treñas has also ordered the City Health Office to make sure that establishments selling water have permits.
Meanwhile, Iloilo Schools Division Superintendent Ma. Lus de Los Reyes, citing initial information gathered by her office and quoting a report from the provincial health office, said the ice water used to prepare the "buko pandan" juice that caused the reported food poisoning of learners and teachers at the Pili National High School in Ajuy Iloilo came from contaminated sources outside the school.
"Results showed that it was not poisoning but amoeba. All of them positive of amoeba," she said.
She added that of the 46 affected, one died, three are still confined at the Sara District Hospital in Sara town, one is under home treatment, and the rest have been discharged.
De Los Reyes was requested by the regional director to submit a report that would be forwarded to the legal unit for appropriate action.
Iloilo Provincial Health Officer Maria Socorro Quiñon, in a separate media statement, said two of the four water sources were contaminated with coliform and two others have E.coli.
"We leave it to the municipal health office to do the right decision," Quiñon added.