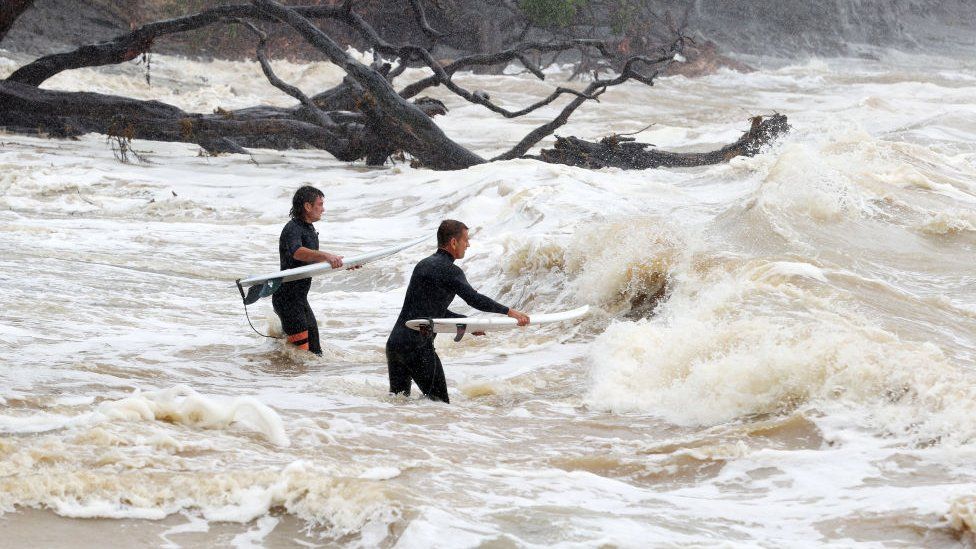 New Zealand has declared a state of emergency due to Cyclone Gabrielle, the third such alert in its history.
The Minister for Emergency Management, Kieran McAnulty, signed the national declaration into place Tuesday morning.
It will apply to the Northland, Auckland, Tairawhiti, Bay of Plenty, Waikato and Hawkes Bay regions and streamline the government's response to the disaster.
At least 38,000 homes were without power on Tuesday morning.
In New Zealand's largest city, Auckland, authorities earlier evacuated people from 50 homes around a 30m-high tower that was in danger of collapse, local media reported. Dozens of evacuation centres have also been set up in the city.
Mr McAnulty described the storm as "an unprecedented weather event".
He said the state of emergency will allow for federal co-ordination of a clean- up response and would provide additional resources to those who are affected. It also gives the government more power to respond to dangerous situations, including restricting travel.
New Zealand's Prime Minister Chris Hipkins announced a NZ$11.5m (£6m; US$7.3m) aid package on Monday.
Cyclone Gabrielle is hitting New Zealand's north, just weeks after Auckland and surrounding areas endured record rainfall and flooding which killed four people.
One firefighter is missing and another critically injured after a landslide took place at Auckland's west coast beach settlement Muriwai.
The search for the second firefighter had to be called off because conditions were too dangerous.
New Zealand's meteorological agency, Metservice, said 100 to 260mm had fallen in the Hawke Bay region in the past 24 hours.
Metservice on Wednesday said the cyclone would continue to bring severe weather to northern and central parts of New Zealand as it moved southeast.
And red weather warnings which indicate significant flooding and widespread damage from strong winds were in place across much of the north island.
Meanwhile, some 10,000 international Air New Zealand customers were disrupted by the cancellation of at least 509 flights.
The Auckland airport said on Tuesday morning that international and domestic flights were expected to restart, but if weather conditions deteriorated, that could change.