Products made by Sinopharm and Sinovac 'have levels of efficacy that would be compatible with [WHO] requirements', chairman of Strategic Advisory Group of Experts says
Vaccines now on verge of being accepted for the Covax Facility, which aims to make billions of doses available to people in poorer countries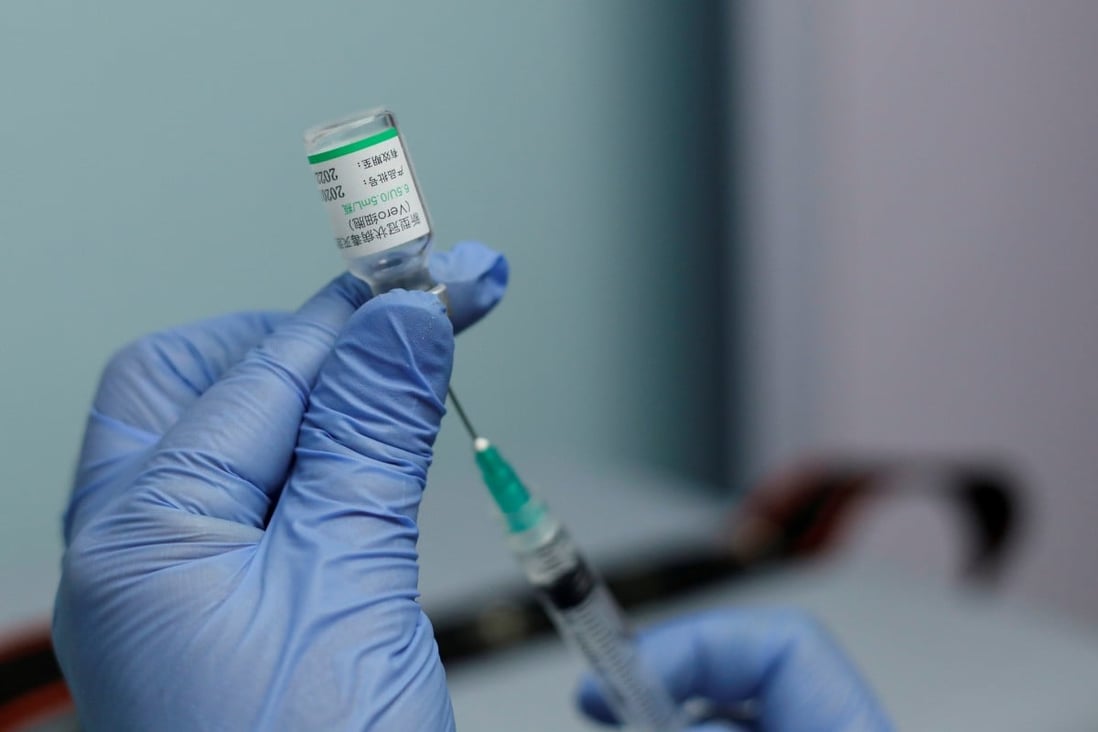 A vaccine made by China's Sinopharm could soon be added to the products distributed by the Covax Facility. Photo: Reuters
Two Chinese
Covid-19 vaccines
are a step closer to being included in the
Covax Facility
– the global initiative to ensure poorer countries receive fair access to such products – after the head of a
(WHO) experts group said their efficacy data was in line with the required standards.
The information about the vaccines was presented by manufacturers
Sinopharm
and Sinovac to the WHO's Strategic Advisory Group of Experts (Sage) last week.
"The information that the companies shared publicly at the meeting last week clearly indicates that they have levels of efficacy that would be compatible with the requirements that WHO has asked for this vaccine," Sage chairman Alejandro Cravioto said on Wednesday.
"That means about 50 per cent [efficacy] and preferably close to or above 70 per cent and of course, they have all the safety data to show that this vaccine would cause no harm in humans when used."
The panel hoped to issue recommendations on the use of the vaccines by the end of the month, Cravioto said.
The WHO said in March that the two Chinese vaccines were in the process of being evaluated for emergency use and that a decision was not expected until April. Achieving emergency use status is a prerequisite for a product to be included in the WHO-led Covax programme, which has so far secured or optioned more than 3.5 billion doses of Covid-19 vaccines.
The WHO has already granted emergency use status to the vaccines made by Pfizer-BioNTech, AstraZeneca-Oxford and Johnson & Johnson.
Although neither Sinopharm nor Sinovac have made their products' detailed efficacy data public, both have been approved for use within China, which has set a target to inoculate 40 per cent of its population by June.
According to its own interim analysis, Sinopharm said its vaccine was 79 per cent effective against Covid-19. The product has been approved by nearly 30 countries, including Argentina, Bahrain and the United Arab Emirates, which hosted its final-stage clinical trials.
Zhang Yuntao, the chief scientist at Sinopharm subsidiary China National Biotec Group, said last month that the company would need to assess the results of its overseas trials to decide if a third, booster, shot was needed to counter new variants of the coronavirus.
Trials of the Sinovac vaccine carried out in Brazil, Turkey and Indonesia showed it to have an efficacy rate of between 50 and 83.5 per cent. It has been approved for use in about 20 countries.
Both of the Chinese two-dose vaccines can be stored at fridge temperature, which makes them easier to transport.
Meanwhile, the efficacy rate of the single-shot vaccine developed by Chinese company
CanSino Biologics
could fall to 50 per cent within six months of it being administered, according to a Reuters report.
The firm said in February that interim analysis of the results of its final-stage trials showed the product to have an efficacy rate of more than 65 per cent.
CanSino's chief scientific officer Zhu Tao said in an online presentation on Wednesday that a booster shot given six months after the first could result in a seven to 10-times increase in neutralising antibody levels and push the efficacy rate to more than 90 per cent, though more clinical trial data was needed.