Thousands of people have been protesting on the streets of Bangkok, Thailand's capital, for months now demanding a new constitution, the dissolution of parliament, reforms to the monarchy and more.
Though the actions have organisers and figureheads, much like the rolling protests in Hong Kong, these are protests driven from the ground up and inspired by ideas.
In tactics reminiscent of the "be water" strategy adopted by Hongkongers, Thai youth are using social media such as Twitter and Facebook and encrypted apps such as Telegram to organise quickly, decide next steps, converge on a site, then melt away.
Instead of occupying prominent locations in the capital and making themselves easy targets for security forces, this allows protesters to stay one step ahead of authorities.
Social media is a critical tool for rapid mobilisation, allowing a rapid shift of plans and location of protests. This fluid style of protests is in stark contrast to the 2010 protests when the Red Shirts occupied a major intersection for months," the Australian National University's Thailand expert Greg Raymond says.
Protests and coups in Thailand are not uncommon. Depending on how you count them, there have been at least 13 coups or coup attempts since the 1930s, including coups in 2006 and 2014, as well as political unrest in the intervening period.
The country has had something like 20 constitutions put in place (including temporary documents) in the same time frame.
But the demonstrations playing out now are different to the Red Shirt protests that flared up between 2006 and 2014, which supported former prime minister Thaksin Shinawatra and then his sister, former Yingluck Shinawatra, both of whom were removed from power.
Rather than rallying to a leader, people take to the streets now to rally behind a set of ideas and principles and demanding systemic change.
The singling out of the King and demand that his vast wealth and power be brought to heel is unprecedented in a country with strict lese majeste laws and a deep respect for the monarchy.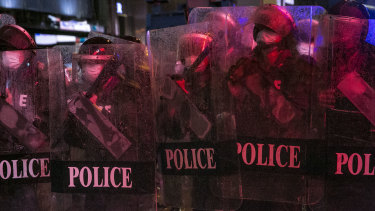 Raymond says the drivers of discontent include anger that military junta leader Prayut Chan-o-cha remained Prime Minster after a questionable election in 2019; anger at the current constitution which heavily favours the ruling elite; poor economic conditions — exacerbated by COVID-19 which has hit the tourism-dependent economy hard — and the dissolution of the Future Forward party after the 2019 poll, which had attracted huge support from young Thais.
Bloomberg reported that on Monday protest organisers used Facebook to ask supporters if they should hold rallies that evening. Supporters replied with the "Care" emoticon to signal "rest for one day," or the "Wow" emoticon to "keep going!"
The majority of supporters on Facebook chose to continue the protests. A similar poll was also done on Twitter, using the like and retweet buttons for the vote.
These tactics have kept the police off balance. Rallies have been held each day since Prayut issued an emergency decree to ban large gatherings and left the government scrambling.
Human Rights Watch in Thailand accuses the government of misusing its emergency powers to target Voice TV and three online news sites with shutdown notices for reporting on the protests.
Raymond says there are range of scenarios that could play out in the weeks and months ahead, including Prayut being removed (a move that would likely not go far enough for the protesters), constitutional reform (which would satisfy some but not all of those on the streets), and an eventual violent crackdown to bring protests to an end.
Reforms to the monarchy appear less likely, at least for now.
"This is not about a particular dynasty [the Shinawatras], this is about principles — and that is significant," he says.