Four people have died after a mid-air collision between two helicopters near Sea World on Australia's Gold Coast.
Queensland Police say initial investigations suggest the crash happened as one aircraft was taking off and the other was landing.
Those who died were travelling in the same helicopter. Three other passengers are in a critical condition.
Two UK citizens were among those killed in the crash, a foreign office spokesperson told the BBC.
They added that officials were supporting the families of the two victims – who have not been named – and would remain "in contact with the local authorities".
Five of the six people on the other aircraft, which made an emergency landing, suffered minor injuries.
Prime Minister Anthony Albanese said the country had been left shocked by the "terrible and tragic incident".
"My thoughts are with all those affected, including first responders, and my deepest sympathies are with those who are grieving," he said.
The Australian Transport Safety Bureau (ATSB) is investigating the collision, which happened at about 14:00 local time (04:00 GMT).
The two aircraft came down near a tourist strip known as Main Beach, about 75km (47 miles) south of Brisbane.
Gary Worrell of the Queensland Police Service said: "It's a difficult scene, Due to the area it's located, on the sand bank, it was difficult to gain access, to get our emergency services to the scene to manage it appropriately."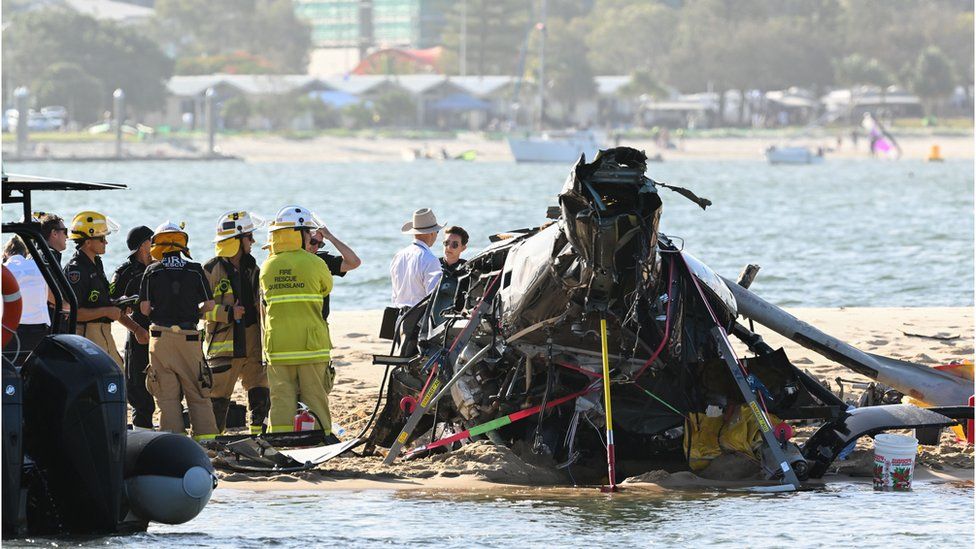 Images from the site show debris strewn around the area and a mangled helicopter apparently lying upside down opposite the Sea World resort.
The other helicopter has the popular marine park's logo on its fuselage and appears to have made an emergency landing after the collision.
Mr Worrell said members of the public and police had tried to remove passengers from the aircraft and performed first aid on the injured.
The resort's owner, Village Roadshow Theme Parks, offered its condolences to all those impacted and said Sea World Helicopters is an independent operator.
ATSB chief commissioner Angus Mitchell asked eyewitnesses who saw the collision or the helicopters in flight to contact investigators.
A preliminary report will be made public in the next six to eight weeks, with a final report to follow once the investigation is complete, he added.
Queensland Premier Annastacia Palaszczuk called the incident an "unthinkable tragedy" and said her "deepest sympathies are with each of the families and everyone affected by this terrible accident".
The Gold Coast region is currently in its peak tourist season, with children on their summer breaks.