Kentucky was hardest hit as four tornadoes, including a massive storm, devastated a town and collapsed a factory building
Seven central and southern US states were picking up the pieces Saturday after a series of powerful tornadoes intensified by severe storms ripped across the region, leaving an estimated 70 to 100 people dead.
Kentucky was hardest hit as four tornadoes, including a massive storm, devastated Mayfield, a small town 134 miles (215 km) north-west of Nashville, Tennessee. A candle factory partially collapsed when the tornado struck on Friday evening.
More than 30 tornadoes pummeled a 200-mile plus area in what US President Joe Biden described as an "unimaginable tragedy". Initial reports were of six confirmed fatalities but this was expected to rise significantly, with dozens of people unaccounted for.
She told USA Today that it was "absolutely the most terrifying" event she had ever experienced. "I did not think I was going to make it at all."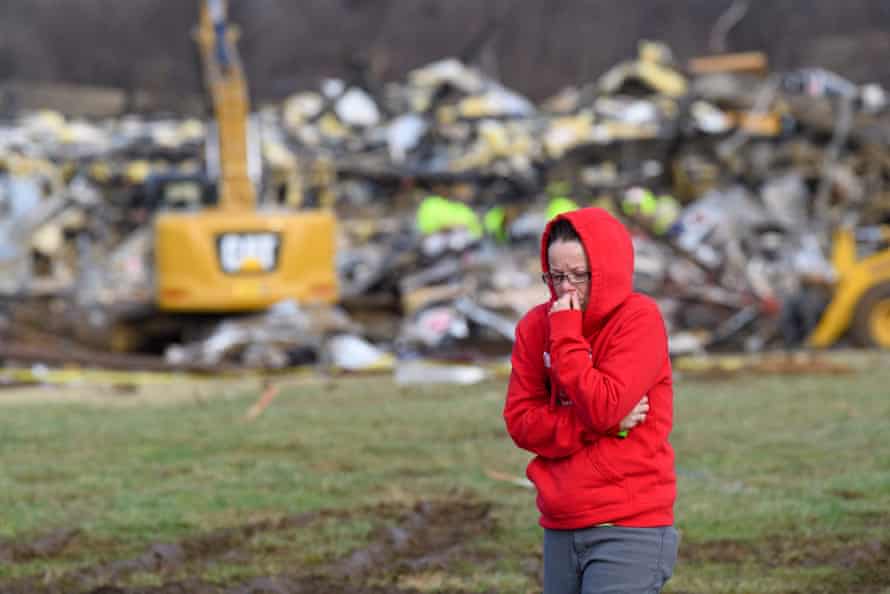 The severity of the storm system forced workers at a National Weather Service office near St Louis to themselves seek shelter as a tornado passed nearby, killing at least one person.
In Arkansas, a tornado struck a nursing home in Monette, killing one person and trapping 20 people inside as the building collapsed. In addition, three storm-related deaths were confirmed in Tennessee.
The storms also caused a CSX company fright train to derail in the city of Madisonville in western Kentucky, Reuters reported. Initial reports indicated no injuries.
The National Weather Service is working to determine whether this was a single storm or a series of concurrent storms in the same area, CNN reported. More than 100 tornado warnings were issued across the region, the Weather Channel said.
An "explosive, severe weather set-up" was how Kentucky meteorologist with ​​WHAS11 First Alert StormTeam described it at 10.45pm local time on Friday night. ​"We need to be taking this very seriously."