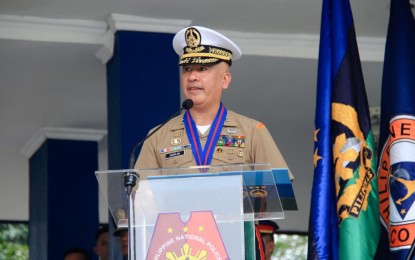 READY FOR POLLS. AFP deputy chief of staff Lt. Gen. Charlton Sean Gaerlan, delivers AFP chief Gen. Romeo Brawner Jr.'s message during the simultaneous multi-agency send-off and turnover ceremony of government forces for BSKE duty on Monday (Oct. 23, 2023) in Camp Crame, Quezon City. Brawner also urged task force members to leave behind political affiliations and personal interests as they aim to create an environment where every Filipino can exercise their right to vote without fear and restriction.(Photo courtesy of the AFP)
MANILA – Armed Forces of the Philippines (AFP) chief Gen. Romeo Brawner Jr. on Monday said the military is determined to ensure that peace and order would prevail in the Oct. 30 Barangay and Sangguniang Kabataan Elections (BSKE)
"The AFP stands together with our partners from other government agencies and our counterparts in law enforcement to ensure peace and security during the BSKE on October 30," the military chief said in his message read by AFP deputy chief of staff, Lt. Gen. Charlton Sean Gaerlan during send-off rites in Camp Crame, Quezon City for the 1,100-strong multi-agency task force that would secure the elections.
This task force consists of personnel from the AFP, the Philippine National Police, the Philippine Coast Guard and the Department of Education.
Brawner also urged task force members to leave behind political affiliations and personal interests as they aim to "create an environment where every Filipino can exercise their right to vote without fear and restriction."
The Commission on Elections (Comelec) has deputized soldiers, police officers, and Coast Guard personnel to secure polling precincts and election paraphernalia on election day.
Government security forces are mandated to provide security to Comelec personnel, poll deputies, and other government personnel performing election-related duties.
They are likewise tasked to ensure the availability of transportation assets, communications systems, and other essential equipment for the conduct of the polls.
Earlier, Philippine Army chief Lt. Gen. Roy M. Galido underscored the significant responsibility of Army troops in the coming polls – to help ensure that the electorate can freely exercise the right of suffrage.
Galido likewise directed troops to intensify their security efforts in collaboration with the government security forces nationwide. (PNA)