MANILA – Twenty-three aspirants for national positions filed their Certificates of Candidacy (COCs) while 18 party-list groups submitted their Certificates of Nomination and Acceptance (CONAs) during the first day of the filing period on Friday.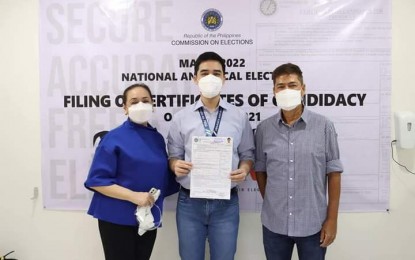 REELECTIONIST. Pasig Mayor Vico Sotto (center) is flanked by his celebrity parents, Connie Reyes (left) and Vic Sotto, when he filed his Certificate of Candidacy at the local Commission on Elections office on Friday (Oct. 1, 2021) morning. His runningmate will be former Pasig congressman Robert Jaworski Jr. (Contributed photo)
Commission on Elections (Comelec) spokesperson James Jimenez said the low turnout may not be related to the coronavirus disease 2019 (Covid-19) pandemic.
"We don't think the pandemic is actually an issue here because this is exactly the pattern we see every time we have the filing. The first day really doesn't see a lot of filers," he said in an interview.
"But for the most part, candidates tend to cluster at the end of the period and this is especially true now that the end of the period is October 7 and 8, both of which are numbers that look fairly auspicious. We feel that is really a bigger factor than Covid," he added.
Six aspirants to succeed President Rodrigo Duterte submitted their COCs, including Senator Manny Pacquiao.
The others are Laurencio Yulaga, who claimed to be a Harvard University graduate; Leysander Ordenas, allegedly a former military officer, teacher, and migrant worker; Dave Aguila; Dr. Jose Montemayor; and Edmundo Rubi.
Three vice presidential hopefuls, led by former Manila mayor, Buhay party-list Representative and Pacquiao runningmate Lito Atienza, also filed their COCs. The two others are Yulaga's runningmate, Alex Lague, and Rochelle David.
Senator Risa Hontiveros will seek another term and filed her COC with 13 others, including two former senators, Antique Representative Loren Legarda and Sorsogon Governor Francis Escudero, who filed his documents through his lawyer.
A total of 18 party-list organizations similarly filed their list of nominees and CONAs — ACT-CIS, AGAP, Kabayan, An-Waray, DIWA, Pilipinas Para sa Pinoy, Alona, TODA, Cancer, People's Volunteer Against illegal Drugs, 1-Pacman, Marino, Ako Tanod, Ang Probinsyano, PBA, COOP-NATCCO, WACCAA, and 1-Rider.