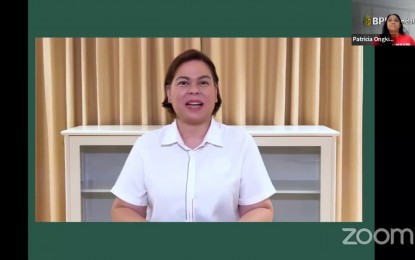 MANILA – Around 35,000 learners and more than a thousand teachers are expected to benefit from the school supplies donation of the Bank of the Philippine Islands (BPI) Foundation, according to the Department of Education (DepEd) on Friday.
In a video message, Vice President and Education Secretary Sara Duterte lauded the BPI Foundation's initiative as it partnered with the DepEd for learning recovery.
"This project brings joy and ease to thousands of public school teachers and students, a concrete affirmation of your trust and confidence in them to hold out strong as we endeavor to recover learning gaps due to the schools' closures during the pandemic," she said.
Duterte noted that the move steers the organization's social corporate responsibility, as well as its stakeholders which helps achieve the development and enhancement of basic primary education.
"May we never tire [of] finding meaningful ways to support our shared endeavors of our teachers and students and maintain the quality of our education through our engagements, synergy, and commitment to the nation," she said.
The BPI Foundation, meanwhile, assured the public of its sustained commitment and partnership with the DepEd.
BPI Foundation lists items to give to selected big schools in the country (Screengrab)
"We believe that it is essential to every recovery is the full support and cooperation between government and the private sector… The BPI Foundation, we remain committed to the rebuilding phase, until we are fully recovered," said Owen Cammayo, Executive Director of the BPI Foundation.
Besides school supplies for thousands of learners and teachers, it will also turn over printing resources donations for 74 big and small schools nationwide.
Selected big schools will receive two printers, 24 bottles of black and colored ink, and 100 reams of short bond papers; while small schools shall be given a printer, 12 bottles of black and colored ink, and 25 reams of short bond papers.
This is the second time the BPI Foundation has turned over printing resources to DepEd. Last March, around 90,000 learners in seven regions benefited from the provided printers, inks, and bond paper reams for the Brigada Eskwela.