MANILA – More than 24 million individuals have so far been fully vaccinated against the coronavirus disease (Covid-19) in the Philippines, the National Task Force (NTF) Against Covid-19 said on Tuesday.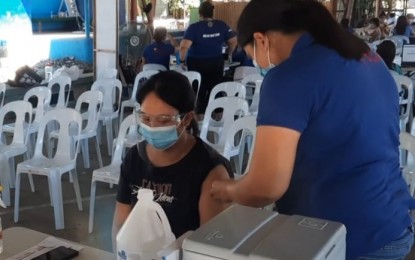 (File photo)
During President Rodrigo Duterte's taped Talk to the People, NTF chief implementer Secretary Carlito Galvez Jr. said 24,498,753 Filipinos were fully vaccinated that is around 31.76 percent of the country's eligible population.
Galvez said the Philippines has administered 52.7 million doses of Covid-19 vaccines nationwide, 28.2 million of which were given as first doses.
The government, he said, is targeting to scale up its vaccination rollout to 1.5 million jabs a day to inoculate at least 50 percent of the country's target population by yearend.
He noted that supply is no longer an issue this time considering that around 38 million Covid-19 vaccine doses are in government warehouses.
"Right now supply is not anymore an issue. We have more than 38 million doses in our warehouses," Galvez said.
He said the issue now is related to logistics, wherein it takes seven to nine days to deliver Covid-19 shots from warehouses to vaccine centers.