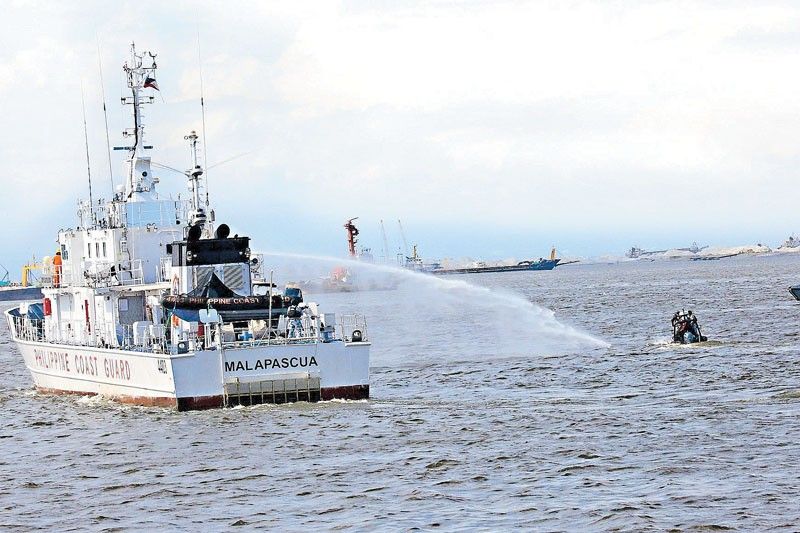 Manila, Philippines — Armed Forces of the Philippines chief Gen. Romeo Brawner made this clear yesterday as the military prepares to resume deploying AFP ships to escort vessels carrying provisions for a Marine outpost in Ayungin (Second Thomas) Shoal.
A resupply mission on Aug. 5 was cut short after the CCG hosed down one of the civilian supply ships.
One of the vessels managed to slip past the Chinese blockade to unload provisions for the Filipino troops stationed on the grounded BRP Sierra Madre. Philippine Coast Guard (PCG) vessels were also involved in the aborted resupply mission.
Brawner said the Chinese apparently were careful about triggering open hostilities, hence their use of their coast guard – instead of their navy – in harassing Filipino civilian vessels. The CCG, however, is under China's Central Military Commission and is not a civilian agency.
"So in fact, during that resupply mission, we had Navy ships behind the Coast Guard ships who were also behind the smaller boats that we used," Brawner said on CNN Philippines on Wednesday.
He said an attack – even with water cannon – on a navy ship would be tantamount to "aggressive actions against a military ship and that could be interpreted as an act of war already."
"The reason why we believe they used their Chinese Coast Guard ships is because of that, they want to act short of declaring war," he explained.
"So all of these actions are considered actions in the gray zone. Meaning they are not really overt acts of war but lower than that," Brawner said.
The AFP chief recalled that in 2012, the Philippine Navy almost had a shooting war with the Chinese Navy. He said an armed confrontation almost erupted after a Chinese navy ship came to the rescue of the Chinese poachers accosted hours before by the Philippine Navy on patrol in the vicinity.
"We're glad it did not happen," Brawner said, adding that this may have prompted China to use its coast guard and maritime militia in the West Philippine Sea to assert its claim.
He said Philippine Navy ships are larger and cannot reach the shallow waters around Ayungin Shoal to deliver supplies to BRP Sierra Madre.
"Navy boats will have to anchor far from Ayungin and use smaller boats to come near it," he said.
Brawner announced on Thursday that the military is now planning to also deploy maritime militia in the West Philippine Sea to augment its forces and train fisherfolk in the task of safeguarding their livelihood.
"Definitely we are not leaving Ayungin, we are not going to tow our ship that is in Ayungin Shoal," he stressed.
He said BRP Sierra Madre is still in active service and that the military is obliged to keep its personnel on board adequately provisioned.
Mutual respect
The Ayungin incident has sparked widespread condemnation from various quarters, with Sen. Bong Go appealing to China to observe mutual respect among nations and cease bullying the Philippines.
He also emphasized the importance of pursuing peaceful and diplomatic approach to addressing the West Philippine Sea issue.
"I delivered a speech at the Senate strongly condemning the recent harassment of our coast guard. And I'm calling on China: stop bullying us," Go said in an interview on Aug. 10, after assisting indigents in Alaminos City, Pangasinan.
He said China should repay with kindness the respect and high regard shown by former president Rodrigo Duterte to the Chinese people and their leaders.
While Filipinos are known for their fighting spirit, the maritime dispute should be addressed through proper diplomatic channels, Go said at the Senate plenary on Aug 7.
"We passed a resolution. The Senate can only express its sense on the matter – the sense of the Senate, opinion so to speak. President Marcos is the chief architect of our foreign policy. He's the one who knows what's best to resolve this through peaceful means," Go, a member of the Senate foreign relations committee, said.
Go has filed Senate Bill 2112, which seeks to upgrade the PCG's assets and resources, to enable the service to carry out its duties and responsibilities more effectively.
Its main goal is to upgrade the PCG's vessels, aircraft and equipment to meet international standards.
Such improvements are also expected to significantly enhance response time during maritime incidents and emergencies.
PCG water cannons only for firefighting
At a press briefing yesterday, Vice Admiral Roy Echeverria, head of PCG's Maritime Security Law Enforcement Command, said water cannons on PCG vessels are exclusively for firefighting purposes.
"Water cannons, we always use it only during disasters at sea, especially when there is fire. We don't use it for any other reason," he told reporters on board the BRP Melchora Aquino.
Asked by reporters if the PCG may deal with potential threats using water cannons, Echeverria said PCG personnel have guns that they could use to "suppress a threat."
He emphasized the PCG "has not encountered that kind of situation."
Echeverria and officials from 19 government agencies as well as from the European Union witnessed the conduct of the first "Alalayan Exercises" aimed at achieving coordinated responses to "maritime threats."
He said the Alalayan exercise yesterday had nothing to do with China's reported aggression toward Philippine authorities, and had been planned three months ago.
The event enabled the PCG and other law enforcement agencies to test the EU's Indo-Pacific Regional Information Sharing (IORIS) platform, Echeverria explained.
"The EU provided us with a secured, common information sharing platform through the IORIS project, which is now being used by different support agencies, and we would also want to test it and its protocols," he said.
Through the IORIS platform, law enforcement agencies, including the PCG, can share intelligence information real-time, according to Echeverria.
The web-based platform developed by the EU is being managed by the National Coast Watch Center that Echeverria also heads.
EU political counselor Frederic Grillet – who also attended the Alalayan exercise – said they would continue to support Philippine authorities in building up capabilities.
He also echoed the declaration by European Commission President Ursula von der Leyen, who visited the country last month, that the EU supports "a free and open Indo-Pacific which is based on a rules-based international order."
Meanwhile, Defense Secretary Gilbert Teodoro said Australia has committed to further boost defense relations and continue joint endeavors with the Philippines aimed at promoting regional peace and security.
Australia made the commitment through its ambassador Hae Kyong Yu during a meeting with Teodoro at Camp Aguinaldo early this week.
As part of the greater focus of the Philippine defense sector on external defense as per President Marcos' instruction, Teodoro acknowledged the "mature" defense cooperation between the Philippines and Australia in various bilateral and multilateral platforms.
DND spokesman Arsenio Andolong said Teodoro welcomed the conduct of the Philippine leg of the Indo-Pacific Endeavor, Australia's flagship regional engagement activity, and the inaugural Defense Minister's Meeting.
Andolong said Ambassador Yu reiterated Australia's appreciation for the Philippines' assistance in locating the wreckage of SS Montevideo Maru, a prison ship carrying Australian and other Allied prisoners of war, which sank northwest of Luzon in 1942. — Ghio Ong