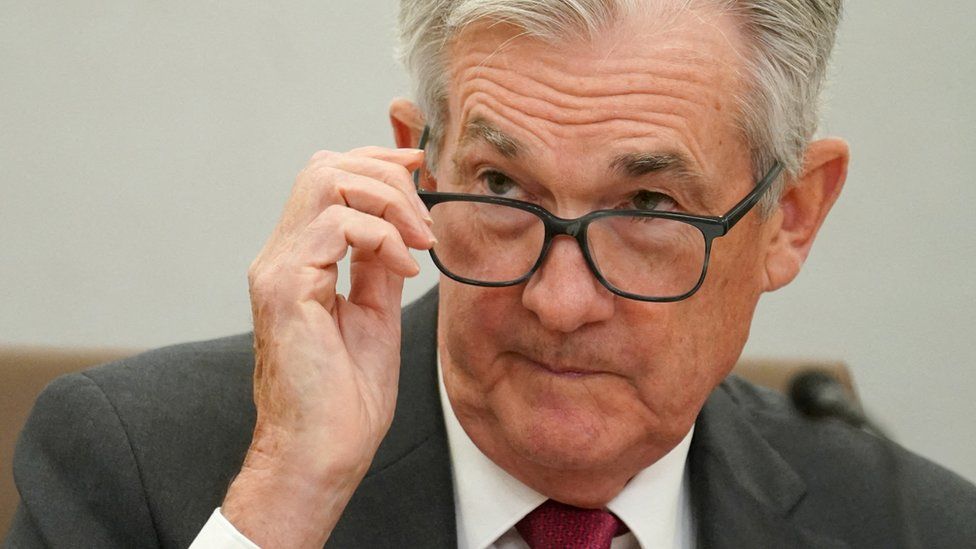 The head of the US central bank has said authorities may start to ease up on interest rate hikes as soon as this month, after racing to raise borrowing costs earlier this year.
The Federal Reserve has made four hefty 0.75 percentage point rises since June in a bid to curb inflation, which is the rate at which consumer prices rise.
Fed chairman Jerome Powell said "it makes sense" to slow down to assess the impact of the moves.
Markets soared following the comments.
In the US, the Dow Jones Industrial Average jumped more than 2%, while the S&P 500 surged 3% and the Nasdaq jumped 4.41%. The dollar fell, while other global exchanges also jumped.
The US has been driving a global shift, as central banks raise interest rates sharply after years of low borrowing costs, to try to slow down rising prices.
The Fed's key interest rate has jumped from near zero in March to more than 3.8% – its highest rate since January 2008.
By raising interest rates, authorities make it more expensive to borrow money, aiming to cool demand demand for big ticket items such as cars, homes and ease inflation, which is currently near its highest for 40 years.
In the US, higher borrowing costs have already hit sectors such as housing, where home sales have slowed sharply.
But it typically takes months for the impact of the moves to be absorbed. Analysts have warned that the Fed risks triggering a severe economic slowdown that would cast millions out of work.
That is because when economies shrink, businesses make less money meaning they can end up making cuts to workforces.
"The full effects of our rapid tightening so far are yet to be felt," Mr Powell said in his speech on Wednesday.
"Thus, it makes sense to moderate the pace of our rate increases…The time for moderating the pace of rate increases may come as soon as the December meeting."
Mr Powell's comments come amid signs that inflation in the US may be subsiding. Since peaking at 9.1% in June, the inflation rate has eased, falling to 7.7% in October.
But Mr Powell said the job market, including wage growth, remain too strong for the bank's comfort.
"Despite some promising developments, we have a long way to go in restoring price stability," he said, warning that the Fed still plans to raise rates, albeit at a slower pace.