Suva/Washington: The United States will launch its biggest Pacific push since World War II by returning the Peace Corps to the region, releasing a Pacific-wide strategy and spending $900 million on economic development.
The announcement by US Vice President Kamala Harris on Wednesday is designed to head off Beijing's increasingly assertive Pacific agenda, after the Chinese government signed a security deal with Solomon Islands in April and pushed for a regional economic bloc in May, splitting the Pacific Islands Forum as its leaders met for the first time in three years.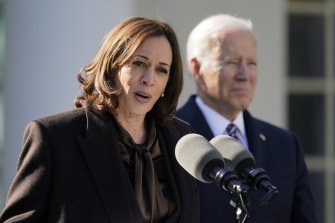 Prime Minister Anthony Albanese will fly into the divided leaders' meeting in Suva on Wednesday as the forum reels from the withdrawal of Kiribati – an increasingly important partner for China in the region – and Pacific leaders plead for unity.
In his speech to the Pacific leaders' forum, Albanese is expected to re-commit to a new $6.5 million Australia Pacific Defence School – the location of which has yet to be confirmed. During the May election campaign Labor also promised an extra $525 million over four years in development assistance.
Harris will address the forum via video link on Wednesday, two weeks after Beijing's request to send a delegation to the meeting was snubbed.
The vice president will tell the forum that the US plans to establish new embassies in Kiribati and Tonga, spend $900 million on fishing assistance over the next decade, appoint the first US envoy to the Pacific Islands Forum, establish USAID agency in Suva and implement climate change cooperation through the Partners in the Blue Pacific network. In a briefing note, the US State Department said US Peace Corps would also be redeployed in the region. The Peace Corps have historically provided most of their development assistance across Africa, Asia and the Caribbean.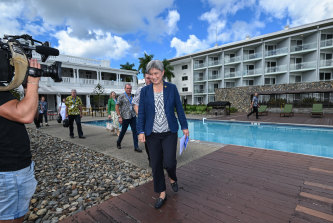 Harris will tell the Pacific Islands Forum leaders that "the milestone reflects the United States' robust and growing commitment to the Pacific Islands region".
In Washington on Tuesday AEST, Australian Deputy Prime Minister Richard Marles used his first post-election trip to the US to warn that both countries must lift their games in the Indo-Pacific to avoid a "catastrophic failure of deterrence" in the face of growing threats.
Marles – who is also defence minister – vowed that Australia would "do its share" to bolster its military capabilities in the region, with the Albanese government determined to "take greater responsibility for its own security" compared to its predecessors.
The US and Australia have been criticised for neglecting the Pacific after a post-Cold War focus on Europe, the Middle East and Asia. Anna Powles, a Pacific security expert and senior lecturer at Massey University, said previous attempts to fashion US Pacific programs have lacked consistency and agency for Pacific nations.
But China's ambitions to establish a military foothold in the Pacific, as well as its infrastructure investment throughout Fiji and other island nations, have forced the White House and Canberra to recalibrate their approach. The region has been frustrated by a lack of climate action, the economic impacts of COVID-19 and a perception that it was caught up in the geostrategic struggle between the US and China.
Fiji Prime Minister Frank Bainimarama told the leaders' forum on Tuesday that climate change was hurting the Pacific's security and livelihoods.
"It is damaging our economies, and in many instances, it is threatening our very sovereignty, as climate-induced sea-level rise threatens our exclusive economic zones," he said.
"On top of this, the global geopolitical landscape is hotly competitive, as we see a multi-polar system emerge featuring major superpower rivalry, alongside a number of middle powers all clamouring to shape the world in their favour."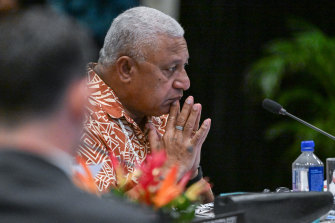 Kiribati's withdrawal from the forum and growing concerns about Solomon Island's security pact with Beijing prompted Foreign Minister Penny Wong to explicitly call for unity in her first official comments in Suva. "The region is stronger together. It's a simple proposition," she said on Tuesday.
"All the nations are seeking to navigate challenges. And we do it best when we can do it together and that's the approach Australia's taken. And that's the approach the Pacific Islands Forum is taking and that is why Pacific Forum unity is so important."
China's Foreign Ministry spokesman, Wang Wenbin, described claims that China had encouraged Kiribati to withdraw as "groundless". "I would like to stress that China does not interfere in the internal affairs of Pacific Island countries," he said.
Nauru's President Lionel Aingimea also pulled out of the forum on Tuesday. The Pacific Island nation has formed close ties with Beijing but Radio New Zealand reported on Tuesday that Aingimea's withdrawal was due to rising levels of COVID-19 after the small nation recorded more than 600 cases last week.
Marles told the Centre for Strategic and International Studies, one of Washington's leading think tanks, that the US and Australia "could not afford to stand still" as they grapple with a military build-up from China "occurring at a rate unseen since World War II."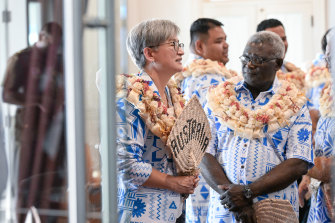 "In the years ahead, the US-Australia alliance will not only have to operate in a much more challenging strategic environment in the Indo-Pacific; it will need to contribute to a more effective balance of military power aimed at avoiding a catastrophic failure of deterrence," he said.