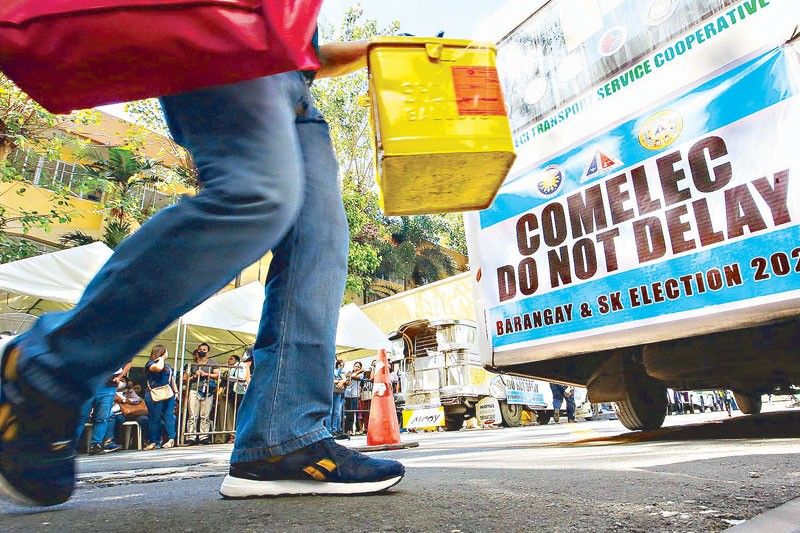 50,000 cops to ensure peaceful, orderly polls
MANILA, Philippines — All roads lead to polling precincts today with the scheduled barangay and Sangguniang Kabataan elections (BSKE) pushing through nationwide.
Commission on Elections (Comelec) Chairman George Garcia said the poll body is 100 percent ready for the conduct of elections, including in barangays declared as "hotspots."
Voters can cast their votes starting at 7 a.m. until 3 p.m
"There is no failure of election, we will proceed with the election at all cost," Garcia yesterday said in a mix of Filipino and English, as he assured voters that the Comelec is always ready to find ways to allow every eligible citizen to exercise the right to suffrage.
"The vacation period is long, which means people can go home and, hopefully, are able to vote," he added.
Garcia said all ballots and other necessary election paraphernalia have been delivered to the provinces. Early deliveries of election paraphernalia to polling precincts in island municipalities began Sunday.
Comelec spokesman John Rex Laudiangco reported that there are over 91 million voters, while a total of 672,016 positions are to be contested for the BSKE.
According to Garcia, 365 areas nationwide are classified as being in the "red category," but sufficient police personnel have been deployed to these areas where the Comelec is prepared to hold the elections.
The election hotspot list has four categories: Green, yellow, orange and red.
Green means the area is generally peaceful; yellow means the area has an intense political rivalry and a history of election-related violence in the past two elections; orange means serious armed threat posed by communist and Moro rebels, while red has combined factors from the yellow and orange categories ­– which may warrant the motu proprio declaration of Comelec control.
The Comelec has recorded the lowest ever number of election-related violence, with only 25 incidents since the start of the election period.
Garcia said they have received numerous reports of vote buying, though a number turned out to be fake upon verification.
For the first time, Garcia said, the Comelec has put up a command and operations center to monitor all election-related activities, including irregularities.
He said they requested the Philippine National Police (PNP) not only to set up checkpoints, but also conduct foot patrols to prevent possible election-related violence.
Abra election 'battleground'
Together with PNP chief Benjamin Acorda, Comelec officials led by Garcia visited Abra yesterday.
Garcia said they went to Abra to assess the situation, and also ensure that a peaceful electoral exercise is possible even in a province that has been known to be a "battleground" during elections.
The poll chief said he directed the PNP to do everything necessary to ensure the peaceful and orderly conduct of elections in Abra.
Debunking earlier reports, Garcia said only 29 teachers have opted not to serve during the elections in Abra, while 284 BSKE candidates voluntarily withdrew their candidacy.
He also said reports circulating online that members of armed terrorist groups are roaming the province are unfounded.
According to Garcia, the Comelec and PNP are in control of the situation, not only in Abra but in the entire country.
Voters: Wear face masks
As a reminder that the global pandemic is far from over, the Department of Health advised voters, especially those with symptoms of respiratory illness, to wear face masks.
Health Undersecretary Gloria Balboa said people are encouraged to wear masks when they go to polling precincts today.
"It is no longer mandatory to wear masks. But if they have symptoms, especially respiratory in nature, it might be good to still wear masks," Balboa said over the weekend.
She said wearing a mask when having symptoms of respiratory infection is part of being a "responsible citizen."
"It's not just protection for oneself but, especially, for those who they will encounter in voting precincts when they go to vote," Balboa pointed out.
50,000 police deployed for BSKE
Interior Secretary Benhur Abalos said that around 50,000 members of the PNP were deployed to ensure an orderly and peaceful BSKE today.
In a radio interview on Sunday, Abalos said these include 16,000 police positioned in areas identified by the Comelec as hot spot areas; 25,000 police to conduct spot inspection; 4,500 police assigned at border checkpoints and 4,275 police detailed for the joint PNP-AFP (Armed Forces of the Philippines) checkpoints.
He said aside from the 50,000 police, more PNP personnel will also serve as board of election inspectors (BEI) in the BSKE.
"From the maintenance of peace and order, we also have the board of election inspectors as there are areas where there are no teachers who are willing to serve, especially in the hotspot areas, so we trained them (police) as BEI, together with the AFP so that we are prepared to deploy them in different areas. They were trained by the Comelec," Abalos added.
He said that as of Oct. 27, the PNP recorded at least 11 election-related violent incidents.
"At least 11 have been killed. Of these, six cases were already referred to the prosecutors with the arrest of suspects involved, and the other five (killings) are still undergoing investigation," Abalos said.
He said of those killed, seven were incumbent officials running anew in the barangay polls.
Abalos said that he will visit the polling precinct today to evaluate the conduct of the election.
"Yes, just to monitor as after tomorrow, and then the following day is Undas, we will continue to conduct inspection," he said when asked if he will personally visit the polling precincts after he casts his vote.
On the other hand, Abalos warned against those involved in vote buying after the recent incident in Navotas.
"A certain barangay tanod was involved (in the vote buying) where cash, sample ballots were confiscated and the investigation is ongoing," he added.
Abalos said that authorities are also monitoring electronic transactions as a means of vote buying.
"The possession and delivery grocery tokens of any value, holding of bingo games, talent show, distribution of prizes, and hakot system – where it is defined as gathering of two or more voters before election day or on election day – are considered illegal," he added.
117,000 AFP troops ready
About 117,000 troops from the AFP are to be deployed to help keep the polls safe and orderly.
Col. Medel Aguilar, AFP spokesman, said that the troop deployment will be focused on the 361 election areas of concern identified by the Joint Peace and Security Coordinating Council.
All AFP units and personnel have gone on red alert as part of security measures for today's BSKE.
"We are ready for the elections. Our troops are deployed," Aguilar said in a mix of Filipino and English in a radio interview.
He said the red alert status was raised over the weekend and may last whenever necessary, adding
that AFP chief of staff Gen. Romeo Brawner Jr. has instructed the full provision of support to the Comelec.
Brawner, in an official statement issued last night, urged Filipinos to "exercise their right to vote and select the next leaders of their communities."
"Let's not take this right for granted. Instead, let's take this as an opportunity to further improve our government, starting from its most basic unit, our barangays and our youth leaders," the AFP chief said.
For his part, Col. Xerxes Trinidad, AFP Public Affairs Office chief and Philippine Army spokesman, said that the Army has already deployed its forces under the main AFP troop deployment for the BSKE.
Trinidad said the Army foresees challenges in covering all communities where polling would take place.
He said to make up for gaps, the Army would be prioritizing red and yellow areas. — Bella Cariaso, Rainier Allan Ronda, Neil Jayson Servallos