AUSTRALIA— Hundreds of schools are closed and thousands of teachers are on strike across
New South Wales
over staff shortages and stagnant wages.
Educators and supporters gathered in Sydney's Hyde Park this morning before marching to NSW Parliament.
Teachers and principals, striking for the first time in nearly a decade, are asking for a salary increase of between five to 7.5 per cent a year to recognise the increase in their skills and expertise and reverse the relative wage decline.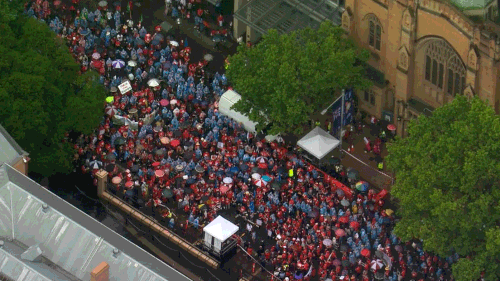 Thousands of teachers gathered in Sydney today in the first major strike in a decade. (9News)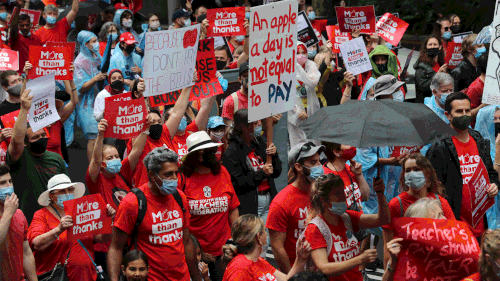 Teachers are asking for a salary increase of between five to 7.5 per cent a year. (Getty)
They are also protesting staff shortages.
NSW Teachers Federation president Angelo Gavrielatos said teachers are exhausted from "unsustainable" workloads and claimed the government was ignoring the problem.
"Quite simply, if we don't care about teacher shortages we don't care about kids," he told Today.
"Research by the University of Sydney shows that teachers are working on average 55 hours a week and our principals 72 hours a week on average. We need to manage the workloads."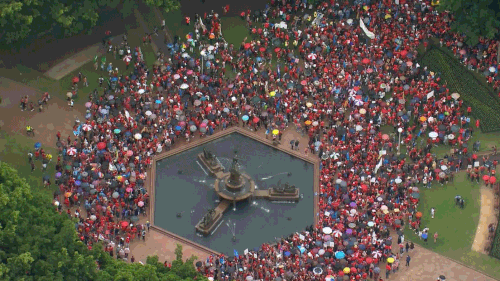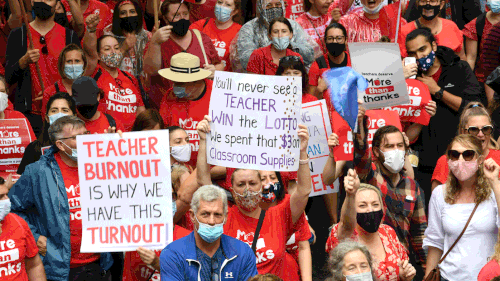 He said competitive salaries were needed to attract more teachers.
"The shortage is real, it is already upon us and will only get worse because we are heading into a perfect storm," he said.
"In the next 10 years, we are going to need 11,000 additional teachers."
But Premier Dominic Perrottet is refusing to budge.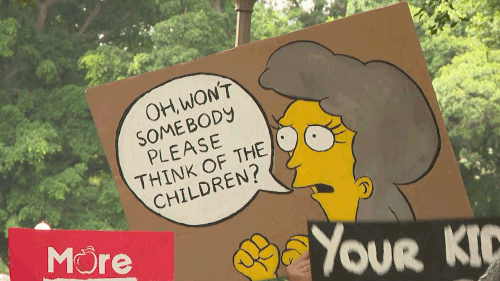 The teachers also want another two hours a week of preparation time to help with lesson planning and collaboration.
Most parents will be able to drop their children off for supervision with no lessons but about 400 schools across the state will be closed today.
NSW Education Minister Sarah Mitchell yesterday said she was "disappointed" by the strike action, saying students have experienced enough disruption this year.
"I think our hardworking teachers have been led down the garden path by a union that just seems to be hellbent on disruption in a year that's been hard enough on our kids and parents already," she said.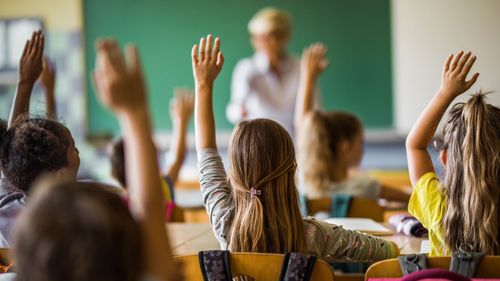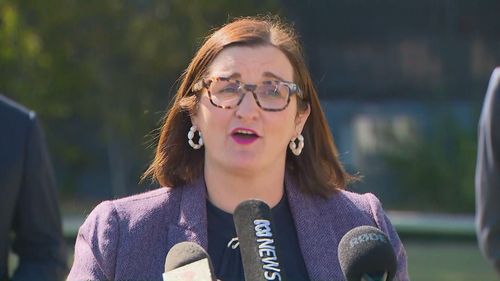 But Labor Education spokeswoman Prue Car backed the striking teachers.
"Working parents know that teachers are not paid fairly," she said.
"They are not paid enough. Their wages have not kept up with growth."
The Department of Education said the Industrial Relations Commission had ordered the teachers not to strike and said it was doing all it could to continue teaching and learning without disruption.
"The department is strongly encouraging the federation and its members to comply with the commission's orders," it said on December 1.
"But we are also working to make sure our students and their families are supported should industrial action proceed."
Some parents told 9News the strike meant their children would be coming to work with them, while others, with pandemic home schooling still fresh in their minds, threw their support behind the teachers.
"Whatever they want, I want them to get," one mother told 9News.
Teachers from Sydney will meet at Hyde Park in the city at 9.30am today and march to Macquarie Street to rally from 10am.