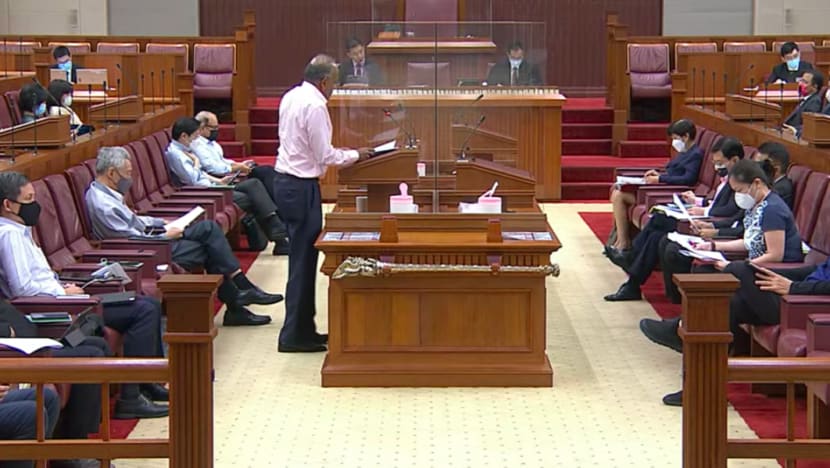 SINGAPORE: Legislation designed to counter foreign interference was passed in Parliament on Monday (Oct 4), with a majority of 75 to 11.
The Foreign Interference (Countermeasures) Bill (FICA), tabled in Parliament three weeks ago, seeks to prevent, detect and disrupt the use of hostile information campaigns and local proxies by foreign entities intending to interfere in domestic politics.
All People's Action Party (PAP) MPs present voted for the Bill, as did four Nominated Members of Parliament (NMPs), while 10 Workers' Party (WP) MPs and Non-Constituency Member of Parliament Leong Mun Wai from Progress Singapore Party (PSP) voted against it. Two NMPs abstained.
The Bill was passed following a 10-hour debate, which started at around 12.50pm and ended just before 11.15pm.
Following calls from PSP's Mr Leong to refer the Bill to a select committee under Standing Order 68, Speaker of Parliament Tan Chuan-Jin clarified after the second reading of the debate that the standing order did not apply in this case.
Under Standing Order 68, the Speaker of Parliament can refer a Bill to a select committee, if they are of the opinion that it is a hybrid Bill, or one that prejudicially affects individual rights and interests.
"The Foreign Interference (Countermeasures) Bill now before the House applies to the public at large, and does not specifically apply to an individual, it is therefore not a hybrid Bill, and Standing Order 68 does not apply, I do not have such power as you would like to bestow upon me," said Mr Tan.
Twenty-one MPs spoke during the debate. WP MPs also proposed several amendments to the Bill, and suggestions and points of clarification by PAP MPs.
WP's suggestion to include central executive committee members or the equivalent of any registered political party as part of politically significant persons as defined in the Bill was accepted, as was its proposal to make public some information, such as who is designated as a politically significant person and stepped up countermeasures taken under the Bill.
"We will make public all designations, stepped up countermeasures on politically significant persons, transparency directives and hostile information directives," Law and Home Affairs Minister K Shanmugam said.
However, technical assistance requirements will not be made public so as not to "tip off" hostile actors about ongoing investigations, he added.
The names of citizens involved in foreign political and legislative organisations will also, for now, not be revealed as they are not politically significant persons, Mr Shanmugam said. An amendment on this could take place in future, he said.
TIMING OF THE BILL
In his closing speech, Mr Shanmugam rebutted key concerns including the timing of the Bill and further public consultation to scrutinise the new law.
During the debate, several MPs questioned the timing of the Bill, which was tabled less than a month ago.
Mr Louis Ng (PAP-Nee Soon) said there were some concerns about the interval between the first and second reading of the Bill, with some feeling that the interval was too short.
PSP's Mr Leong said: "It is difficult to understand why the Government is trying to rush the passage of this Bill and why the debate on this Bill cannot be postponed by three to six months to allow for proper scrutiny and consultation, involving a wide range of stakeholders."
In response, Mr Shanmugam said that the issue had been talked about "extensively" for more than three years. He also added that a select committee had also heard extensive evidence on the issue in 2018.
SHANMUGAM'S RESPONSE TO WP
Addressing the WP's proposed amendments to the Bill in his closing speech, Mr Shanmugam reiterated why the WP's suggestion to have the proceedings conducted in the High Court or an open court process would not work.
"The judicial process will not be appropriate in matters where we rely heavily on sensitive intelligence collaboration with foreign counterparts, many things cannot be publicly disclosed," said Mr Shanmugam.
"The courts themselves have recognised their limitations in such matters," he added, pointing to the case of Chng Suan Tze where the Court of Appeal recognised that where a decision was based on national security concerns, judicial review of that decision will be precluded.
"The Court acknowledged that what national security requires, has to be left to those responsible for national security," he said, adding that in such situations, alternate ways have been found in order to provide for checks and balances to maintain accountability.
Mr Shanmugam agreed with WP chief and Leader of the Opposition Pritam Singh on the importance of education about foreign interference and its dangers.
"I agree and I have explained that FICA is part of a comprehensive strategy to deal with foreign interference. Powers under FICA are only part of the picture and I've said that it's a calibrated piece of legislation to allow us to act surgically against threats," he said.
Besides legislation, Mr Shanmugam said the Government will continue to strengthen other defences, detection and response capabilities, as well as Singaporeans' ability to discern legitimate and artificial online discourse, to counter the threat of foreign interference.
DOESN'T SEEM TO BE AN ANSWER WHY BILL NOT PUT FOR PUBLIC CONSULTATION: PRITAM SINGH
Responding to Mr Shanmugam's remarks, Mr Singh quoted a speech made by then-Second Minister for Home Affairs Josephine Teo at the Committee of Supply debates earlier this year.
In her speech, she said that Singapore would need to consider further measures to guard against foreign subversion, and "the public has to have a big part in this to shape proposals and to give safeguards to stronger support", Mr Singh said.
"There doesn't seem to be an answer as to why the Bill could not be put before public consultation, like other Bills are," he added.
"This is an omission for which I don't think we've heard a response to yet."
The WP also "does not understand at the very base level" why judicial review has to be limited in this case, said Mr Singh.
The Leader of the Opposition noted the points made by Mr Shanmugam about national security, stressing that WP MPs have proposed no-camera hearings and that the files be sealed after that.
"I don't mean to just facetiously give a counter response, but there could be leaks in the reviewing tribunals as well," he added.
"I think if you asked me on balance, should a court at least … review the decision of the minister? Should judicial review be allowed to be captured in its entirety by a court of law? I think the answer is 'Yes'."
Responding to Mr Singh's clarifications, the Law and Home Affairs Minister reiterated that the Government has been engaging in extensive consultations with the public on the matter over the last three years.
The public, primarily experts, has been involved in the "thinking through" of the Bill as well, said Mr Shanmugam.
"In fact, we have taken into account the viewpoints that have been given to us by a wide variety of actors. But if we talk about whole-of-society, this is not the end. It's the beginning," he added.
"We will face a major attack at some point, we need to bring the entire society together, we need to do a lot more to bring and shape public thinking, so there is a long haul ahead of us and the public has to be involved in that."
Addressing Mr Singh's second clarification, Mr Shanmugam said many post-colonial countries inherited their systems from the British – a civil service, a judiciary, an education system, and the Singapore Government built up the judiciary.
"If we don't have a commitment to rule of law you think our judiciary will be ranked as it is today internationally?"
Singapore's institutions were built with the foundations of "building order first", and making sure the law and commitment to rule of law "is there", but making exceptions when necessary, said Mr Shanmugam.
"Let's get out of this colonisation of our minds. Let's look at what works, what is fundamental. Checks and balances are important. But what is wrong with the checks and balances we built in here?"
CALLS TO DELAY BILL 
The proceedings went ahead despite a petition seeking to delay the passage of the Bill pending further consultation and scrutiny, presented by PSP's Mr Leong at the start of the sitting.
The petition was signed by eight signatories and had also called for the Bill to be referred to a select committee "to consult and deliberate on the appropriateness and necessity of the measures included".
Deputy Leader of the House Zaqy Mohamad said the petition could effectively be rendered "nugatory" or futile, since Parliament was already scheduled to debate the Bill on Monday.
Instead, he suggested that the petition be considered together with the second reading of that FICA Bill.
"It will make more sense for the petition to be considered by this House, together with the Bill, rather than be referred to the public petitions committee," he said.
"By the time it goes to a public petitions committee for consideration and the committee makes its recommendations to Parliament, today's second reading would have been completed and the issue of the Bill would no longer be before this house," he said.
"Enabling the petition to be considered by Parliament during the debate on the second reading of the Bill, this motion will facilitate and not avoid debate on matters raised in the petition."
He also noted that there appeared to be "substantial overlap between the points raised in the petition and those raised by the WP notice amendments to the Bill set out in the order paper supplement.
"This means that no substantive points are going to be raised and debated during today's proceedings," he said.
Mr Zaqy's proposal for both matters to be debated together was agreed to by the majority of the House, with MPs from WP and PSP recording their dissent.
SAFEGUARDS TO PROTECT FUTURE ABUSE
MPs also raised concerns on the risk of abuse of powers during the debate.
Under the new law, the Minister for Home Affairs is granted powers to issue directions to Internet, social media service providers and website operators to provide user information, block content and remove applications. Authorities can also require politically significant persons to declare foreign affiliations.
"It is a lot of power in one man's hands. How can we protect it from future abuse?" said NMP Tan Yia Swam.
She asked if it could be spread out not just to the different branches in the judiciary, but also across the people.
"Let them call for accountability and transparency in organisations they work with, let organisations regulate amongst themselves who are the right people to seek sponsorships or volunteer work from," she said.
"Let safeguards be what they are – limited protections for the worst case scenario, not pre-emptive strikes against people who may be just trying to do the right thing," she added.
Meanwhile, NMP Shahira Abdullah asked if provisions could be enacted in the law so as to allow directions issued by the Minister to be subjected under a judicial review. This could include requiring that sensitive information be sealed or otherwise not disclosed in the court hearing, she said.
Under the new legislation, the directions are not subjected to judicial review, however, prior to issuing the directions, the minister must suspect or have reason to believe that content has been planned to be communicated by or on behalf of a foreign principal. It must also be in the public interest to issue the directions.
"We have seen some precedent for this in the treatment of whistleblowing information and whistleblowers' identity in court proceedings. If time is of the essence and there is need for judicial reviews under this Bill to be expedited, surely this can also be provided for in the Bill as well," said Dr Shahira.
"A reviewing tribunal, even if presided by a High Court judge, cannot replace the role of judicial oversight. We must strive to maintain Singapore's reputation of holding and protecting the rule of law while recognising the ills of foreign interference," she added.
INCREASING BARRIERS TO ADVOCACY 
Concerns were also raised over the impact of the new law's stricter reporting requirements on advocacy efforts.
The new law sets out requirements for politically significant parties in terms of accepting donations, volunteers, declaring affiliations, and leadership or membership.
All politically significant parties will need to disclose donations to the competent authority if they are S$10,000 or more. Smaller donations from the same donor in the same reporting period that amount to S$10,000 or more in total must also be disclosed.
Meanwhile, defined politically significant parties will be subjected to more stringent donation controls.
Noting that some non-governmental organisations (NGOs) receive overseas funding or support, Mr Darryl David (PAP-Ang Mo Kio) asked what the Government's position would be if the local chapters of global NGOs happen to be supporting a particular cause that was not seen as aligned to Singapore's best interest.
He sought clarifications on whether the NGOs would be classified as agents of influence and be ordered to cease their operations here, and whether these NGOs would be forbidden from accepting funding from such channels.
"I ask because there are NGOs that might be receiving overseas funding or support that are doing work that is beneficial to Singaporeans and the Singaporean community as a whole, and we would not want them or the work they are doing to be inadvertently affected by this Act," he said.
In response, Mr Shanmugam, reiterated that – as long as they are done in an open and transparent manner and do not manipulate Singapore's political costs or undermine public interest such as security – FICA will not stop individuals, businesses and organisations in Singapore from collaborating with overseas partners or foreigners, or discussing Government policies or political matters that affect their business partners.
He added that it will also not cover Singaporeans expressing their own views.
"​​It goes without saying Singaporeans have every right to speak up on our domestic politics, they are free to engage in advocacy. That is not touched by FICA," said Mr Shanmugam.