French president says Scott Morrison should propose tangible actions to heal rift, in first call since row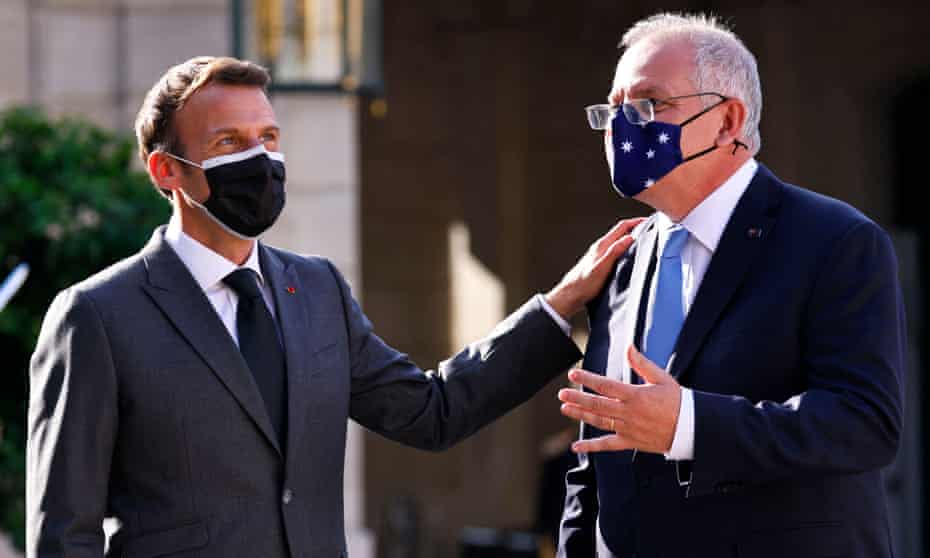 The French president has told the Australian prime minister that the scrapping of a multibillion-dollar submarine contract "broke the relationship of trust" and said Canberra should propose "tangible actions" to heal a diplomatic rift.
In their first phone call since Australia dumped the submarine plans, Emmanuel Macron also encouraged Scott Morrison to adopt a more ambitious climate policy, including a commitment "to cease production and consumption of coal at the national level and abroad", according to a French government readout of the conversation.
France has said it was "betrayed", "stabbed in the back" and "deceived" over Australia's decision to dump a French-backed submarine project worth up to $A90bn (£48bn).
In mid-September, Australia announced it would work with the US and the UK to acquire at least eight nuclear-propelled submarines in a partnership to be known as Aukus. France temporarily recalled its ambassadors from Australia and the US in protest.
The French government's statement on Thursday's phone call said Macron "recalled that Australia's unilateral decision to scale back the French-Australian strategic partnership by putting an end to the ocean-class submarine programme in favour of another as-yet unspecified project broke the relationship of trust between our two countries.