Putin forces intensify strikes on civilian areas as UN security council hears of their 'incredibly reckless' attack on power plant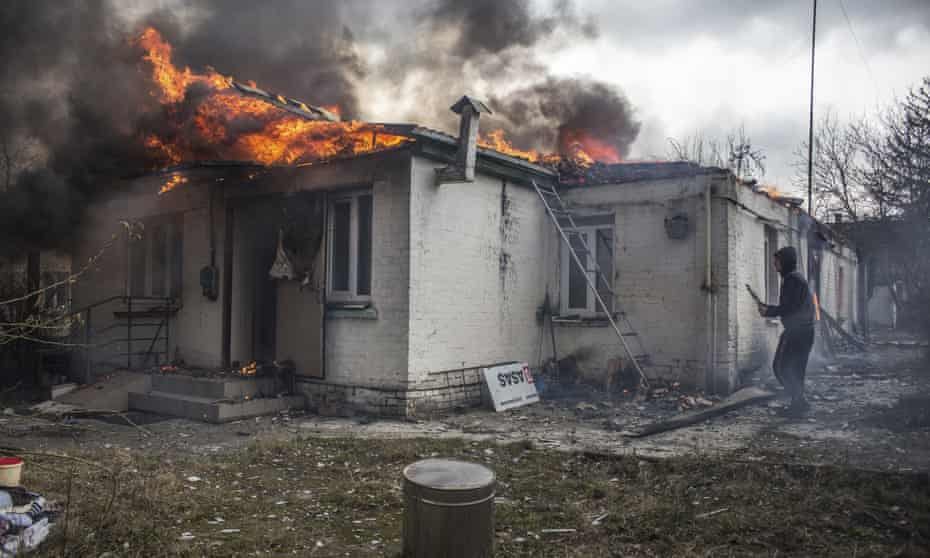 The US envoy to the UN said the world had narrowly averted a nuclear catastrophe in Russia's attack on Europe's largest nuclear power plant, as Moscow's forces intensified their devastating campaign of artillery and airstrikes against civilian areas of Ukraine.
Meanwhile, Nato warned there was still worse to come in the war.
Linda Thomas-Greenfield, speaking at an emergency meeting of the UN security council in New York on Friday, said Russia's actions, which caused a major fire at the Zaporizhzhia compound, reflected a "dangerous new escalation" in its invasion of Ukraine. "Russia's attack last night put Europe's largest nuclear power plant at grave risk," she said. "It was incredibly reckless and dangerous. And it threatened the safety of civilians across Russia, Ukraine and Europe."
Western leaders expressed outrage at the incident, with the British prime minister, Boris Johnson, describing Putin's actions as "now directly threatening the safety of all of Europe" and the US president, Joe Biden, condemning Moscow for the shelling, which Russiaclaimed was a "monstrous provocation" by Ukrainian saboteurs.
The US embassy in Kyiv called the attack a "war crime" in a post on Twitter but the US state department reportedly distanced itself from the allegation, instructing its other embassies not to retweet the claim.
The fire, at a training centre on the site's perimeter, was extinguished on Friday and officials said radiation was normal. The head of the International Atomic Energy Agency, Rafael Grossi, said the reactors were undamaged but the situation "naturally continues to be extremely tense and challenging". Russian forces seized the plant after heavy fighting.
Russian ground forces in the south of Ukraine made an assault on the shipbuilding centre of Mykolaiv as they began their long-expected push west towards the key port of Odesa. Kyiv came under fresh heavy attack and local authorities in the northern city of Chernihiv raised the death toll from a missile strike on residential buildings on Thursday to 47.
In Russia, reporting of the war by international and local independent media was put under increasing pressure as the lower house of parliament passed a law punishing the intentional spreading of "fake" news about the military with 15 years in jail. The BBC announced it was suspending all operations in the country and the Russian newspaper Novaya Gazeta, edited by the Nobel peace prize winner Dmitry Muratov, said it would be removing content on Ukraine. Access to Facebook and Twitter was also completely blocked in retaliation for the social media platforms' restrictions on state-backed media.
At a meeting of Nato foreign ministers in Brussels, the alliance's secretary general, Jens Stoltenberg, described the Russian invasion of Ukraine as "the worst military aggression in Europe for decades … with cities under siege, schools, hospitals, and residential buildings shelled".
In a sobering assessment of the military situation, he told reporters there was evidence of the use of cluster bombs and "other types of weapons which would be in violation of international law", adding: "The days to come are likely to be worse."
He warned that there was also a growing risk of the war spreading to Georgia, on whose territory Vladimir Putin's troops are already present, and Bosnia-Herzegovina, where Bosnian Serbs have been threatening to break up the state with the Kremlin's support.
The UN human rights office said it had confirmed 331 civilians, including 19 children, had been killed and 675 injured since the invasion began on 24 February, adding that the real toll would be much higher. Most were killed by explosive weapons such as shelling from heavy artillery, multi-launch rocket systems, missiles and airstrikes.
The UN refugee and children's agencies said more than 1.2 million people had fled the country, including about half of a million children. The UNCHR spokesperson Joung-ah Ghedini-Williams described the rate as "phenomenal", adding that an equal number were probably displaced inside Ukraine.
Ursula von der Leyen, the European Commission president, said the EU was working with NGOs in Ukraine to establish "humanitarian corridors", after agreement between Kyiv and representatives from the Kremlin on Thursday. "Humanitarian aid must be able to reach all parts of Ukraine and civilians must be allowed to escape cities under siege," she said.
Calls from Ukraine for Nato to police a "no-fly zone" over the country were raised during the Nato meeting but Stoltenberg said the alliance could not directly engage with Russian forces. "We have a responsibility as Nato allies to prevent this war from escalating beyond Ukraine," he said.
"We understand the desperation, but we also believe that if we did [impose a no-fly zone] we would end up with something that could lead to a full-fledged war in Europe, involving many more countries."
The US secretary of state, Antony Blinken, said in Brussels that the west was "faced with what is President Putin's war of choice: unprovoked, unjustified, and a war that is having horrific, horrific consequences for real people. For mothers, fathers. For children. We see the images on TV, and it has to stop."
Ukraine's foreign minister, Dmytro Kuleba, who had joined the meeting in Brussels by video link, showed Blinken and EU foreign ministers photographs of the carnage being wrought.
"One of which I think has also been in the media shows a father grieving over his dead child," Blinken said. "Blood is still on the sheet, the drapes, it's a reminder that even as we talk about these weighty issues of war and peace, what this is really about is the lives of men, women, children, hundreds, thousands of individual human tragedies inflicted by Vladimir Putin and his war of choice on Ukraine and its people and we can't lose sight of that fact."
Putin, however, dismissed reports of airstrikes on Kyiv and other large Ukrainian cities as "gross propaganda fakes" in a phone call with the German chancellor, Olaf Scholz, the Kremlin said. The Russian president "confirmed Russia is open to dialogue" with Ukraine but only "on condition all Russian demands are met", it said.
Those demands included neutral and non-nuclear status for Ukraine and its "denazification", the recognition of Crimea as part of Russia and of the "sovereignty" of separatist territories in eastern Ukraine, Moscow said.
Putin told Scholz he hoped "Kyiv will take a reasonable and constructive position" in a third round of talks planned for next week, the Kremlin statement added. Putin separately warned Russia's neighbours on Friday "not to escalate the situation" by imposing more restrictions on his country.
As Russian forces stepped up their assault on cities particularly in the south and east of Ukraine, the country's president, Volodymyr Zelenskiy, said his country had "survived a night that could have stopped the story, the history of Ukraine, the history of Europe".
A day after Moscow's forces took control of the strategically important city of Kherson, the invading troops continued to besiege population centres, particularly in southern Ukraine, pounding them with artillery and airstrikes and causing devastating damage.
The governor of Mykolaiv said Russian troops had entered his city of about 500,000 people, although a presidential adviser later said the advance had been halted.
The south-eastern port city of Mariupol is also encircled by Russian forces and heavily bombarded, but remains under Ukrainian control.
The city's deputy mayor, Sergei Orlov, said its humanitarian situation was "terrible" after 40 hours of continuous shelling including on schools and hospitals. "I believe that he wants to destroy Ukraine as a nation, and Mariupol is on this way."