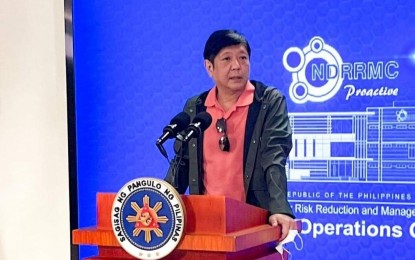 President Ferdinand "Bongbong" Marcos Jr. (Photo courtesy of PBBM's official Facebook page)

MANILA – President Ferdinand "Bongbong" Marcos Jr. on Monday directed the Department of Energy (DOE) to deploy more generators with fuel to areas in Nueva Ecija and Aurora that have limited power supply in the aftermath of Super Typhoon Karding.
In a situation briefing with top government officials at the National Disaster Risk Reduction and Management Council (NDRRMC) headquarters in Quezon City, DOE Secretary Raphael Lotilla bared that aside from Nueva Ecija and Aurora, other provinces facing power supply problems are Tarlac, Zambales, Pampanga, and Quezon.
Lotilla said although main generation plants were spared from the typhoon, several areas remain partially affected by power supply issues.
Marcos, for his part, acknowledged that it will take time before power is completely restored and ordered the DOE to put in place "stopgap measures" such as deploying more generators with fuel.
"I think for the power we'll just have to wait. It's a little — it really is a little early for us to — kasi more complicated ang assessment ng power network kaysa sa mga ibang ano (because the assessment of power networks is complicated)," Marcos said.
"But as a response already, since I've already identified that the whole of Nueva Ecija and the whole of Aurora have no power, we need to send them power," he added.
Meanwhile, Marcos also reminded the National Irrigation Administration and the Metropolitan Waterworks and Sewerage System to take caution in releasing water from both Ipo and Magat dams to prevent widespread flooding.
"Bantayan ninyo mabuti (Keep a good eye on them). We don't want that incident to happen na sabay-sabaynagbitaw, hindi nag-warning sa mga affected areas na magbibitaw ng tubig kaya nagkaproblema (they both released water without warning in affected areas that's why it became a problem). You be very very careful about that," he said.
In November 2020, the province of Cagayan was placed under a state of calamity due to the massive flooding caused by Typhoon Ulysses.
It was described as the "worst flood" to hit Cagayan Valley in 40 years.
Permanent evacuation centers
Department of Social Welfare and Development (DSWD) Secretary Erwin Tulfo, in the same briefing, suggested putting up permanent evacuation centers that are separate from schools.
"…We really need to have an evacuation center in every municipality lalo na (especially) in every flood-prone area," he said.
Marcos recognized Tulfo's proposal as a "good point" and asked him to conduct a "quick study" on how long it takes for displaced individuals to return to their homes after they have been partially or completely damaged from rains and winds caused by typhoons.
In response, Tulfo said it takes some three to four days for them to repair partially damaged homes after receiving aid from the DSWD's Assistance to individuals in crisis situations (AICS) program.
Good preparation
Meanwhile, Marcos cited how early coordination between national and local governments, especially during evacuation efforts, is crucial to prevent untoward incidents from happening.
"I think the preparation that we did all day yesterday, just making sure that everything was prepositioned, we had the plan for whatever would happen. You might think we overdid it, there's no such thing as overkill when it comes to disasters. Tama 'to (That's right), put everything in place. Mabuti nang sobra, kaysa kulang (Too much is better than too little)," he said.
He said local officials, in particular, did a "good job" providing updates on the situation and expressing what steps needed to be taken.
"The LGUs [local government units] did a good job explaining what the situation was, what needs to be done, anong plano (what the plan is). I think this is a good illustration of how that can really help. So that's the approach we will take always," he said.
"Since we've done this so many many times, we know what we need to do, we just have to do it. It comes back down to the coordination," he added.
Marcos also assured that both national and local governments will not stand down until the majority of displaced individuals can safely return to their homes.