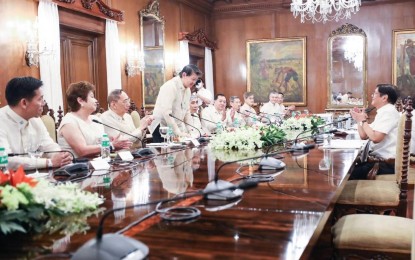 MANILA – President Ferdinand "Bongbong" Marcos Jr. on Friday discussed with a group of Filipino-Chinese business leaders the goals and initiatives to fast-track the recovery of the Philippine economy amid the prevailing coronavirus disease 2019 (Covid-19) pandemic.
In a Facebook post on Saturday, Marcos shared that he met with the Federation of Filipino Chinese Chambers of Commerce and Industry, Inc. (FFCCCII) at Malacañan Palace in Manila.
"We thank our friends from the Federation of Filipino Chinese Chambers of Commerce and Industry, Inc. for meeting with us yesterday and for sharing their ideas to speed up our country's economic recovery from the pandemic," he said.
Marcos also thanked the FFCCCII for heeding his call to take a "whole-of-nation approach" to accelerate the country's economic recovery from the Covid-19 pandemic.
"We are pleased they have eagerly responded to our call for a whole-of-nation approach to addressing this immense and arduous task," he said.
Malacañang has yet to release additional details about the Chief Executive's meeting with the FFCCCII.
The FFCCCII earlier expressed support for Marcos' economic recovery plans.
To revitalize the economy, the government will implement programs to achieve sound fiscal management, Marcos said in his first State of the Nation Address delivered on July 25.
He also emphasized the need to push for tax administration reforms, as well as realign expenditure priorities and improve spending efficiency.
The President also sought the promotion of "productivity-enhancing" investments and to make the Philippines an investment destination.
Marcos has been holding a series of talks with the country's business leaders to improve the services of various sectors, including the agriculture industry.
In his recent trips to Indonesia, Singapore, and the United States, the President also enticed foreign investors to do business in the Philippines, telling them that the country has a favorable business climate.