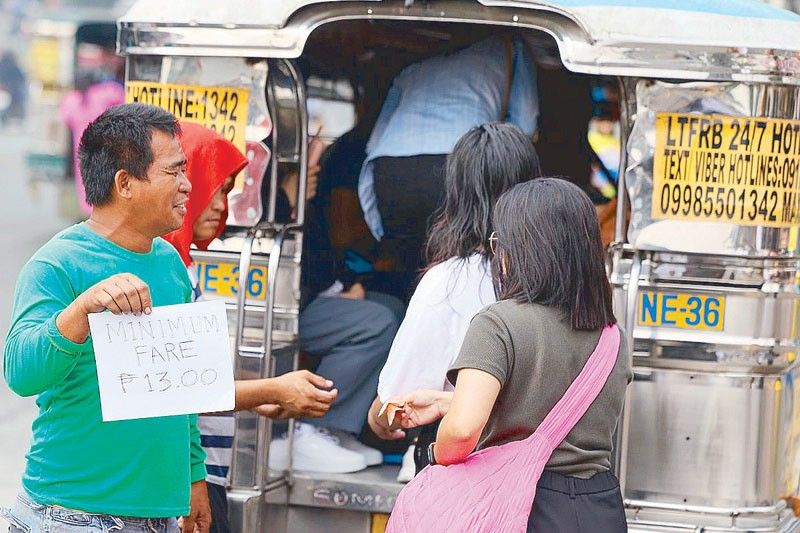 MANILA, Philippines — The P1 provisional fare increase will provide at least P200 additional earnings for drivers of public utility jeepneys after it took effect yesterday, transport group Pinagkaisang Samahan ng mga Tsuper at Operator Nationwide (PISTON) said.
PISTON national president Mody Floranda added that drivers do not need to secure a new fare matrix as the increase is just temporary.
"The drivers just need to post an announcement that the minimum is already P13 so that the passengers are aware," Floranda said
The Land Transportation Franchising and Regulatory Board (LTFRB) approved a provisional increase of P1 for both modern and traditional jeepneys amid fluctuating fuel prices. The minimum fare for traditional jeepneys will increase to P13 from the current P12, while for modern jeepneys it will be P15 from the previous P14.
"If a driver has 200 passengers (a day), that will be P200 additional earnings. If he earns P500, it will become P700 but this is just temporary. The LTFRB can rescind it once the prices of petroleum go down," Floranda added.
Floranda maintained that the ideal fare increase should be P5 as the price of diesel already reached P65 per liter.
"The ideal (fare) increase should be P5 so that the driver and operators can survive but we also take into consideration the current situation of our passengers," Floranda said.
Meanwhile, Floranda called on the 100,000 members of PISTON nationwide to acknowledge the 20 percent discount for students and senior citizens amid reports that there are drivers who refuse to give the deduction.
"We always remind our members to recognize the discount as it is a law. If we will not obey, this can be grounds for the revocation of the franchise," he said.
On the other hand, Floranda maintained that the solution to the unabated oil price hikes is the repeal of the Oil Deregulation Law.
"We call on our passengers to support us in our campaign to junk the Oil Deregulation Law as it is the root cause of the spike in oil prices. Since its implementation, the government has had no control in the increase as the oil companies decide on their own," he noted.
LTFRB Chairman Teofilo Guadiz has said the board has yet to deliberate on a petition filed by transport groups seeking an increase of P5 in the minimum fare and P1 for every succeeding kilometer.