PM Mark Rutte announces first partial lockdown by a western European country since the summer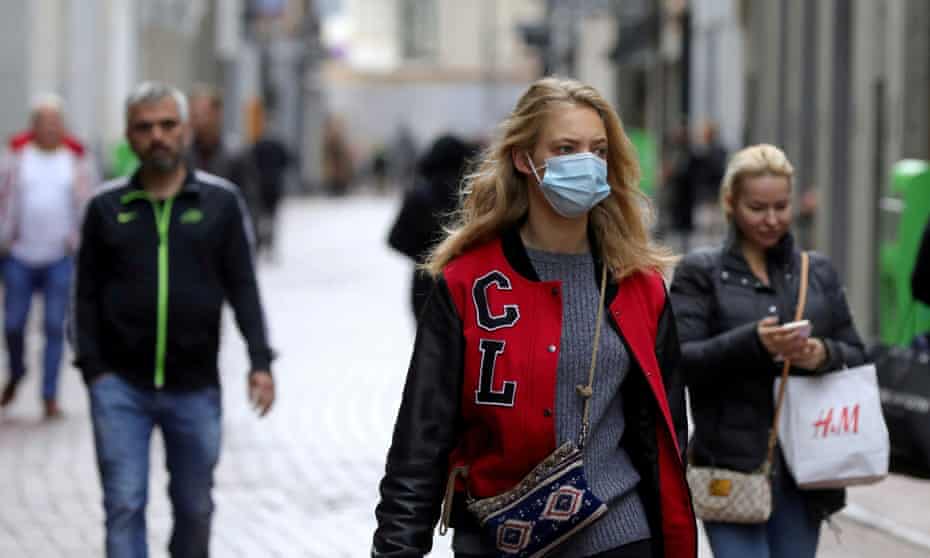 The Netherlands will become the first western European country to impose a partial lockdown since the summer, introducing strict new measures from Saturday in the face of record numbers of new Covid-19 infections.
The restrictions, announced by the caretaker prime minister, Mark Rutte, on Friday, will last at least three weeks and include the closure of bars, restaurants and essential shops from 8pm, with non-essential retail and services such as hairdressers to close at 6pm.
Gatherings at home would be limited to a maximum of four guests, all amateur and professional sporting events must be held behind closed doors, and home working was advised except in "absolutely unavoidable" circumstances, Rutte said.
"We must reduce the number of contacts and infections as fast as possible," Rutte said, calling the measures "unavoidable". The healthcare system was already under such heavy pressure that knee, hip and even heart operations were being postponed.
"Tonight we are bringing a very unpleasant message, with very unpleasant and far-reaching measures," Rutte said.
"The virus is everywhere and needs to combated everywhere. I want every Dutch citizen to be asking, can I do more? Can I do better? We had hoped with the vaccines we wouldn't have to do this, but we see the same situation all across Europe."
Schools, theatres and cinemas will remain open, as will conferences where the audience is seated, but public events such as trade fairs and exhibitions where the public can move around are cancelled from 6pm on Saturday.
The health minister, Hugo de Jonge, said the government would next week debate legal changes to allow "exceptionally busy" stores and hospitality venues to choose whether they would accept only people who were fully vaccinated or had recovered, rather than also allowing access to people with a recent negative test.
The lockdown is longer than the 14 days recommended this week by the government's outbreak management team and comes as the number of new infections reaches record levels in the Netherlands.
The country abandoned most preventive measures in late September, although as cases began to rise the government made face masks mandatory in shops and other public venues again last weekend.
Hospitals in the southern province of Limburg warned this week that the entire health system was "grinding to a standstill" in the country's hardest-hit region, adding: "We are convinced that other parts of the Netherlands will soon follow."
The Dutch public health institute announced the country's highest daily tally of new infections since the pandemic began on Thursday, recording 16,364 new positive tests in 24 hours, an increase of 3,688 over the previous day. Friday's toll was only fractionally lower.
The Dutch football federation and top two professional leagues expressed "great dismay" at the lockdown, which they described as "policy poverty". They added that government officials "no longer know what to do".
An organisation representing bar and restaurant owners condemned the government. "Hospitality businesses are again being presented with the bill for failing government policy," the group said in a statement.
Until last month, the government had insisted the Netherlands' comparatively high vaccination rate – 69% of the population is double jabbed, against an EU average of 65.8% – would mean it could relax remaining restrictions by the end of the year.
But as a fourth wave gathers pace in Europe, it is not alone in reintroducing stricter controls. The Austrian chancellor, Alexander Schallenberg, said on Friday his country would implement a lockdown for unvaccinated people in two hard-hit regions next week, and looks poised to move forward with similar measures nationwide.
From Monday, unvaccinated people in the regions of Upper Austria and Salzburg will only be allowed to leave home for specific necessary reasons, such as buying groceries or going to the doctor.
Germany, which has been reporting record daily rates of new infections on a seven-day average since the start of the week, is also urging people to cancel or avoid large events and to reduce their contacts.