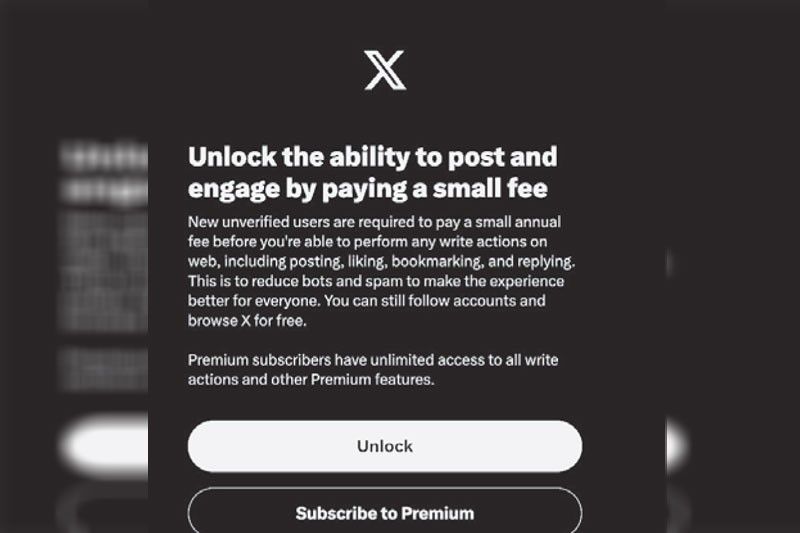 MANILA, Philippines — The social media site X, formerly known as Twitter, announced on Oct. 17 that it has begun charging new users in the Philippines and New Zealand to use basic features under its "Not a Bot" subscription method
New users who sign up on the web version of X will now be required to pay an annual fee of P42.51 if they want to post content or interact with other users.
The Elon Musk-owned platform said its "Not a Bot" subscription method should "bolster" existing efforts to reduce spam and "manipulation of our platform and bot activity."
The subscription plan is so far limited to new users created using a web browser, while those created using the X mobile application are still not required to pay the annual fee.
Those who pay the annual fee will be able to perform certain actions on the web version of the platform, including posting content and liking, replying, reposting, quoting and bookmarking posts.
Those who decline to pay the nominal fee will only have access to a "read only" version of the platform, limiting them to reading posts, watching videos and following accounts, the company said.
"This will evaluate a potentially powerful measure to help us combat bots and spammers on X, while balancing platform accessibility with the small fee amount," it added.
According to X, new accounts created using its web version in the Philippines and New Zealand will first be required to verify their phone number. They will then be asked to select a subscription plan among $1 Annual Fee, X Premium or Verified Organizations.
Existing users in these countries are not affected.X did not explain its choice of pilot countries, although several studies have looked into the issue of disinformation and the use of bots to manipulate online conversations in the Philippines.