Washington: The second night of the Republican National Convention was a norm-defying reality television episode featuring a presidential pardon for a former bank robber, a live citizenship ceremony at the White House and a controversial appearance by the nation's top diplomat.
Absent for the bulk of the night was the issue that still dominates American life: the coronavirus pandemic. When White House economic adviser Larry Kudlow mentioned it in a video message he used the past tense. It was as if the pandemic was in the rear view mirror when, in fact, it is still claiming more than 1000 American lives a day.
Melania Trump has given a rare public address at the Republican National Convention.
Featuring far more prominently over the 2½-hour telecast were the members of the Trump family. The President's daughter Tiffany gave a speech, as did son Eric and wife Melania. You could have sworn the Succession scriptwriters were involved in organising the event.
Family members are usually deployed to humanise a candidate and tell heart-warming stories about what a good person they are. At the Democratic National Convention last week, Joe Biden's grandchildren talked about his love of ice cream and how he calls them on the phone every day. But the Trump children made strikingly political speeches that could easily have been given by a member of Congress or cabinet.
"Rather than allowing Americans the right to form our own beliefs, this misinformation system keeps people mentally enslaved to the ideas they deem correct," Tiffany Trump, the President's youngest daughter, said. "This has fostered unnecessary fear and divisiveness amongst us."
It did not go unnoticed that Trump's children spoke after conservative lawyer Pam Bondi accused Biden and his son Hunter of nepotism over his business dealings in Ukraine and China.
Trump sought to deploy the power of incumbency and the grandeur of the White House to greater effect than on the first night of the convention. At the start of the broadcast he granted a pardon to Jon Ponder, a convicted bank robber who has since founded a criminal justice non-profit group called Hope For Prisoners.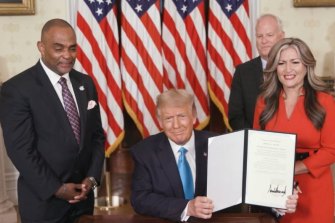 In his second appearance, Trump and Chad Wolf, the acting secretary of the Department of Homeland Security (DHS), administered a naturalisation ceremony for five immigrants from Bolivia, Lebanon, India, Sudan and Ghana. It was an audacious move for a President who has made it his mission to slash the number of illegal immigrants entering the US.
"You've earned the most prized, treasured, cherished, and priceless possession anywhere in the world," Trump said. "It's called American citizenship. There is no higher honour and no greater privilege."
Legal experts were immediately outraged, blasting the event as a clear breach of the Hatch Act which prohibits government employees from engaging in party-political activity on federal property. Presidents are exempt but an official such as Wolf, is not.
Just as unprecedented was Secretary of State Mike Pompeo's decision to speak at the convention while travelling on official business in Israel. This was the first time a sitting secretary of state has made a speech at a party convention.
In a video appearance from the rooftop of the famous King David Hotel in Jerusalem, Pompeo said Trump had led "bold initiatives in nearly every corner of the world" including his tariffs on Chinese goods, peace talks with North Korea and a diplomatic breakthrough between Israel and the United Arab Emirates.
Continuing a clear strategy from the previous night, there was a noticeable effort to reach out to black voters. Referring to Biden's claim that "you ain't black" unless you vote for him, Kentucky Attorney-General Daniel Cameron said: "Mr [former] vice-president, look at me. I am black. We are not all the same, sir. I am not in chains. My mind is my own."
One scheduled convention speaker, Mary Ann Mendoza, whose son was killed by a drunk driver living in the US illegally, was pulled from the line-up at the last minute after posting a convoluted anti-Semitic conspiracy theory on Twitter.
The night ended with headline speaker Melania Trump, who did something distinctive: express sympathy for COVID-19 victims and their families. She was speaking from the White House Rose Garden, in front of an audience whose members were not socially distanced and were mostly not wearing masks.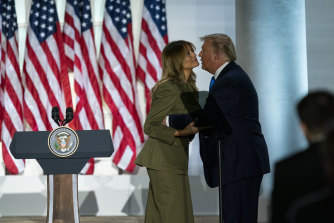 The first lady and her advisers reportedly wrote the 25-minute speech with little input from the White House. Her speech was far more conciliatory than others on the night, calling for national unity during a reckoning over race relations.
Melania Trump spent much time talking about her own work – including her "Be Best" anti-bullying initiative – but also praised her husband, saying he would "not stop fighting for you and your family" if he was re-elected.
"I see how hard he works each day and night and despite the unprecedented attacks from the media, he will not give up," she said.
"We know Donald Trump makes no secret about how he feels about things. Total honesty is what we as citizens deserve from our President," she said in what seemed like an effort to address some of the criticism levelled at her husband.
Matthew Knott is North America correspondent for The Sydney Morning Herald and The Age