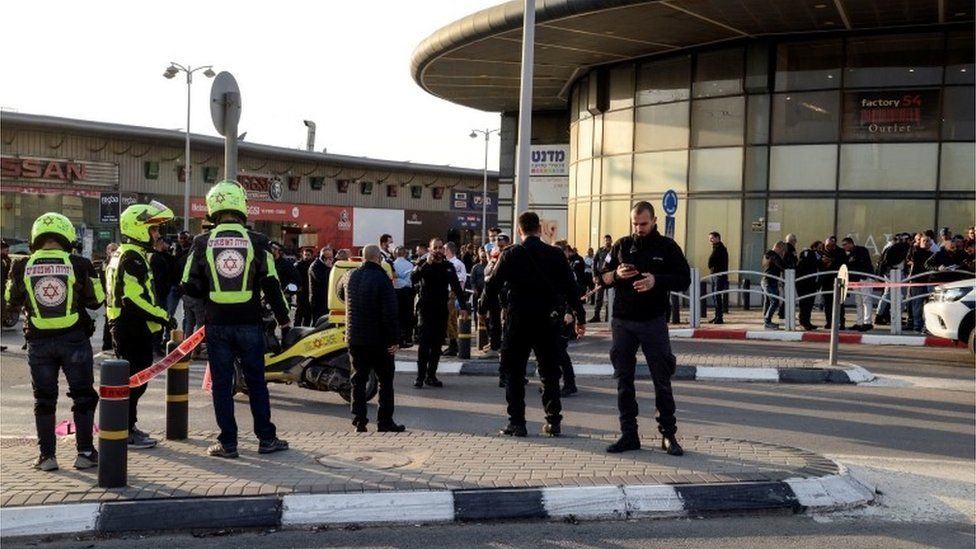 Four Israelis have been killed and several others wounded in an attack in the south of the country, police say.
Three were stabbed to death outside the BIG shopping centre in Beersheba, while a fourth was rammed by a vehicle driven by the assailant, they say.
The attacker was shot dead by a bus driver.
Israel's internal security agency said the assailant was an Israeli Arab who had once been jailed for supporting the Islamic State (IS) group.
The Shin Bet named him as Muhammad Galeb Ahmad Abu Alqian, a high school teacher from the Bedouin town of Hura about 12 miles (19km) east of Beersheba.
Alqian had been arrested in 2015 when he planned to leave for Syria to join IS. He was convicted and served time in prison before being released in 2019.
Police said Tuesday's incident began when Alqian stabbed a woman at a petrol station, then drove to a shopping centre where he rammed into a cyclist. He then went to a second shopping centre across the street, where he stabbed more people, before being confronted and shot.
Footage from the scene shows Alqian outside, holding what appears to be a large knife, as traffic passes by. In another video, he is confronted by a man with a gun, who opens fire when Alqian lunges at him with the knife.
A number of wounded people, some reported to have critical injuries, have been taken to hospital.
It is the deadliest such attack in Israel for several years and follows a spate of stabbings by Palestinians of Israelis in recent weeks. It is the third attack of its kind since Saturday.
Israeli Prime Minister Naftali Bennett described what had happened as a "heinous terrorist attack".
He said the action taken in shooting Alqian "showed resourcefulness and bravery and prevented additional loss of life".
"We will take strong action against terrorists," he added. "We will also pursue and apprehend those who aided and abetted them."