Washington: Donald Trump has suggested that he was "devastated" when he won the US presidency because he had such a great life before entering the White House.
With just over 100 days before the US election, Trump has given a glimpse of how things were better for him before he won the election, noting that the best day of his life was the one before he announced he was running for office.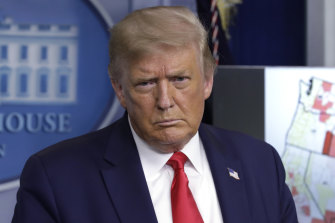 "I love doing it [being President] but there was this phoney deal, that I was devastated when I won because I couldn't have my life. I had a great life, I did," he said, in a candid interview with American sports and pop culture blog Barstool Sports.
"The best day of my life in terms of business, and life, and everything, was the day before I announced I was running for president. Everything was good.
The company was good, I had finished up a lot of jobs that were very successful. And then I said I want to do this. I'm really glad I did but I was treated very unfairly, with fake Russia. Russia, Russia, Russia, and Ukraine, Ukraine – all fake stuff. It's a very vicious business."
The interview with Barstool's president David Portnoy took place on the grounds of the White House and provides an insight into the President's views of life before the Oval Office.
Before taking on the job, he claimed, "I was in so many rap songs" and was adored by many. Now, he said, there was "more fervour on one side" and "far more animosity on the other side".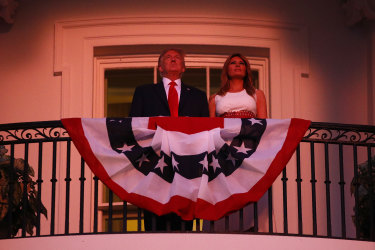 He recalled an incident earlier in his presidency, when he attended a function at the Robin Hood Foundation, a not-for-profit agency fighting poverty in New York. His wife, first lady Melania Trump, noticed that people were booing him.
"She said: 'You know what, I've been with you for a long time, and I've never heard anyone boo you' – this was right after I started being the politician," he said.
"And it meant something because it was the first time in my life I was ever booed."
The interview came as Trump seeks to reassert himself and recalibrate his campaign in the run-up to the November 3 election.
When asked about wearing a mask more frequently, US President Donald Trump said during his coronavirus briefing that he had 'no problem with the masks.'
Faced with a global pandemic and flagging economy, the President now trails presumptive Democratic candidate Joe Biden nationally, with successive polls putting him behind in critical battleground states.
Much of his woes are due to his mishandling of the coronavirus pandemic, which resulted this week in him tweeting a picture of himself in a mask, after months of refusing to wear one.
"But we don't do that with Twitter. Right?" he told Barstool. "We put it out instantaneously, we feel great, and then you start getting phone calls: 'Did you really say this?